The Church and Treasury of the Teutonic Order, Vienna
The Church and Treasury of the Teutonic Order, Vienna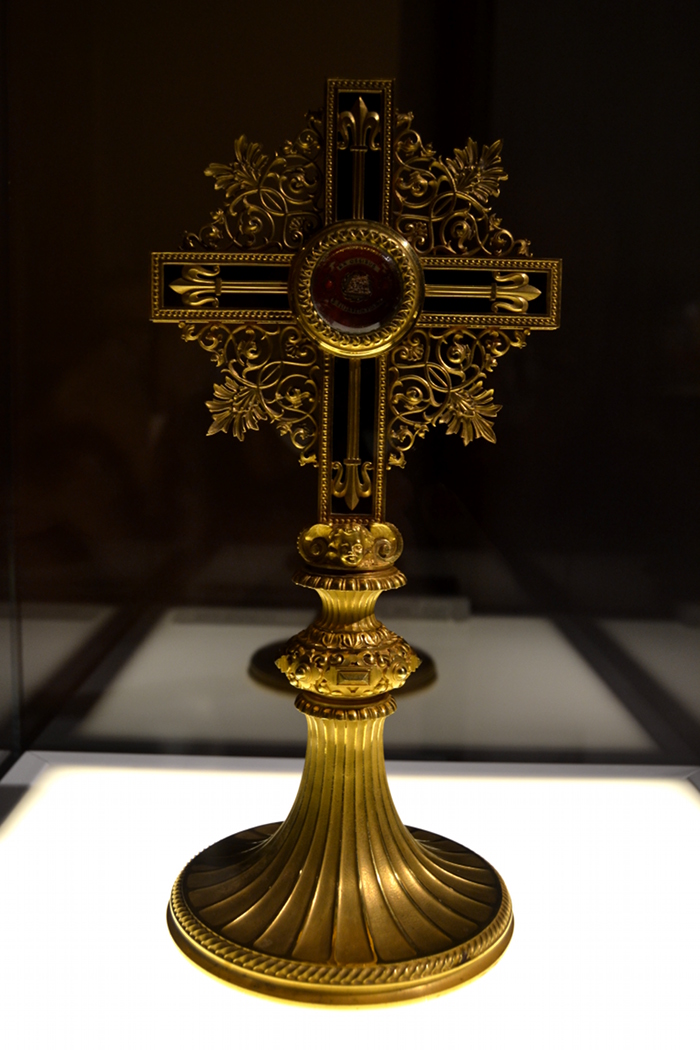 Gold crucifix and reliquary, 19th century
Vienna is home to many great treasures, such as the Kunsthistorisches Museum with its fine art collection and the Hapsburg armor and armor collection at the Neue Berg. One little museum that's often overlooked is the Church and Treasury of the Teutonic Order.
Tucked away near Stefansdom, the city's cathedral, it's easy to miss with its small steeple, smaller sign, and simple front gate. Go inside, however, and you'll be in for a treat.
First stop is the 14th century Gothic church, remodeled in the early 18th century in the Baroque style. There's a fine triptych from Flanders made in 1520 and the walls are covered with the coats of arms of various men who have joined the Order, which is formally called The Order of The Teutonic Knights of St. Mary's Hospital in Jerusalem.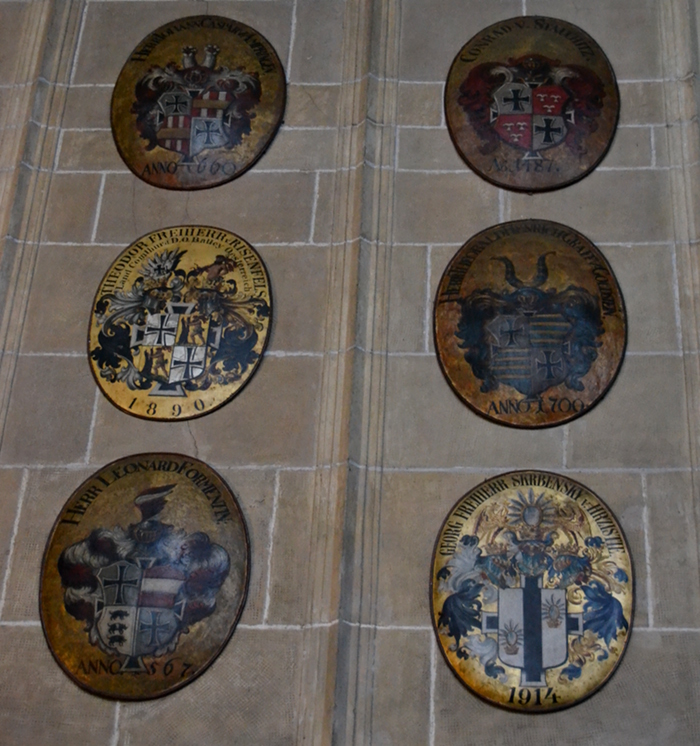 These heraldic shields commemorate the year individuals were accepted into the order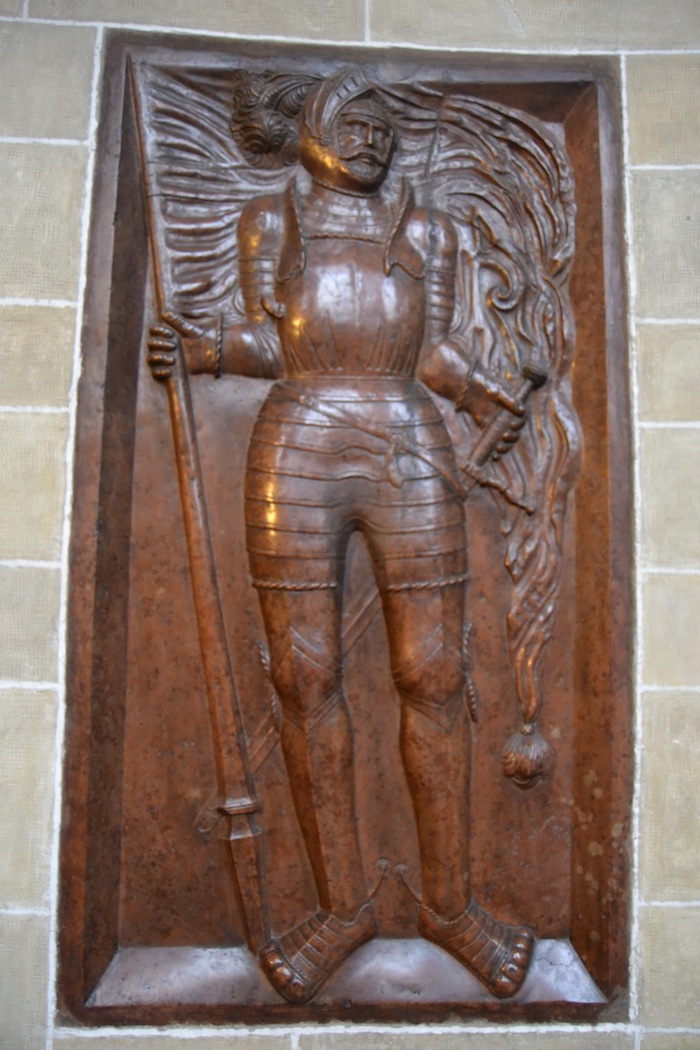 A passage leads to a courtyard and a flight of steps up to the treasury itself. Here you'll find displays giving a brief history of the Order in German and English, as well as numerous rare and precious items the Order has collected over the centuries. I was lucky to get a guided tour by a lay brother who spoke good English and was eager to show me around.
The emphasis here is on ecclesiastical history rather than military history, and there are numerous reliquaries, chalices, jewelry and official seals from past Grand Masters, medals, and paintings.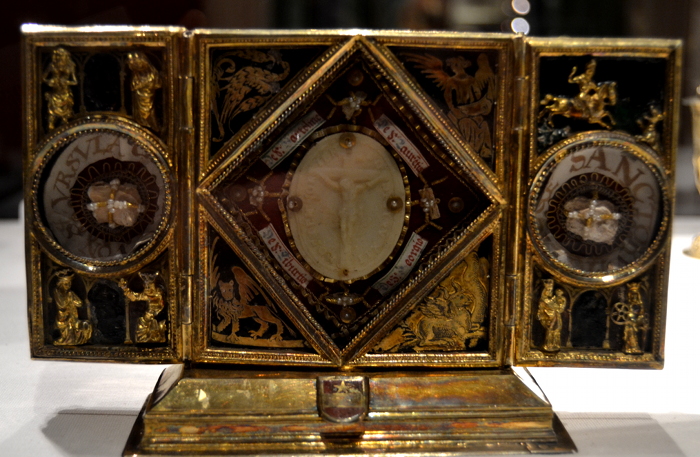 One of the many reliquaries in the treasury

This "Adder's Tongue" centerpiece originally served as a salt cellar.
It's made of red coral and fossilized shark's teeth. The teeth were thought
to be adders' or dragons' tongues and could detect and purify poisoned drinks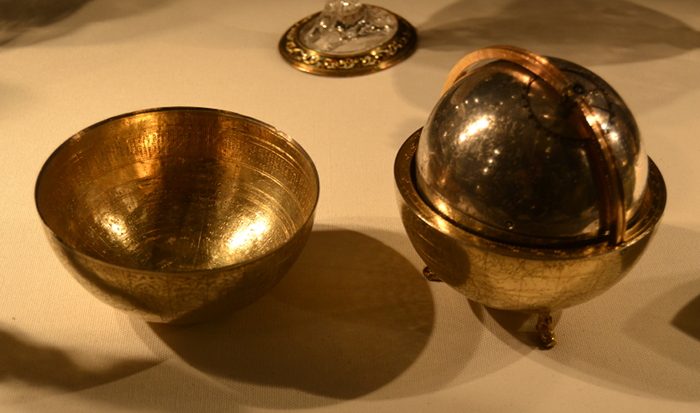 A miniature globe and sky map made by the famous globe maker
Christian Heiden in Nuremberg in 1570
In a city famous for its art and history museums, this one doesn't seem to get much traffic. I spent more than an hour in the five rooms of this small museum and no other visitor came in. That's a shame, because it's an interesting look at one of the more important of the knightly orders, one that's been in existence since 1190.
If you go to Vienna (and I highly recommend that you do!) be sure to drop in and visit.
A portion of this trip was supported by Wien Tourismus. All opinions are my own. All photos copyright Sean McLachlan.

Sean McLachlan is a freelance travel and history writer. He is also the author of the historical fantasy novel A Fine Likeness, set in Civil War Missouri. His historical fantasy novella The Quintessence of Absence, was published by Black Gate. Find out more about him on his blog and Amazon author's page.