Goth Chick News: Artist Collective 44Flood Takes on Vampirism
Goth Chick News: Artist Collective 44Flood Takes on Vampirism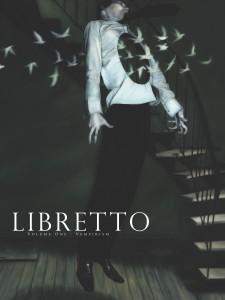 When I see the words "artist collective" and "vampirism" in the same proximity, I am forced to look closer.
I mean, what is the first thing that comes to mind when you think of an artist collective anyway? Probably not vampires.
Until today, I admittedly envisioned a commune, perhaps somewhere in the dessert or maybe Colorado, where personal hygiene is not particularly high on the to-do list. But after doing a bit of research I came to understand that unlike an artist commune, where people live together and produce art as a function of the group's activities, an artist collective shares ownership, risk, benefits, and status of their joint work; and presumably showering more.
Okay, whatever.
Now that we are all clear on that bit, where exactly does vampirism come in?
44FLOOD is the name of an artist collective and publisher formed by Kasra Ghanbari, Ben Templesmith and Menton Mathews.  Templesmith is tapping his old 30 Days of Night bosses IDW Publishing by forming a joint venture to create Libretto: Volume 1: Vampirism.
Libretto will bring together a team of artists, each of which will have a few pages to explore a single theme using comics, painting, and sculpture; and the first theme is vampirism. We are solemnly informed this is not vampirism as we have come to know over in the past few years, but an examination of the term and all that comes along with it.
All what, you ask?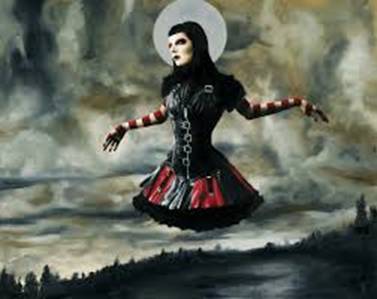 Apparently we'll find out in April, as explained in the official press release:
44FLOOD's first project developed with IDW Publishing is LIBRETTO, a 9×12" anthology presenting emerging and world-class artists as they explore a single theme using diverse mediums such as comics, oil painting, photography, sculpting and more.

The libretto refers to the part of an opera or a musical that is the words or lyrics, and is distinct from the music. 44FLOOD's LIBRETTO will be the "text" to the "music" that is a central theme, starting with LIBRETTO Volume 1: Vampirism coming this April.

LIBRETTO Volume 1 is curated and edited by Kasra Ghanbari and has the theme vampirism, being the misuse of power, as well as the objectification and exploitation of others. Featured contributors give their unique perspectives on this theme, with many sections including an interview of the contributor conducted by another artist.

"We're excited to have LIBRETTO launch our partnership with IDW," said Kasra Ghanbari, CEO of 44FLOOD. "LIBRETTO has both narrative and symbolic works, comic book panels and gallery paintings, alchemical approaches and comedy. It celebrates the ability of art to affect the way we consider and see the world."

This 200-page softcover will feature contributors that include Ben Templesmith, David Stoupakis, Riley Rossmo, Christopher Mitten, George Pratt, menton3, and many, many more. Several of the artists also give a rare look at the techniques and processes they used to create pieces for the book. This is your rare opportunity to explore the dark world of vampirism as seen in an artist's mind.
Okay, I must confess it does sound intriguing. As much as I enjoy all things vampire the poor things have been suffering from overexposure these last few years. Judging from the few art panels that have been released, it is just possible that 44Flood really will bring us a unique perspective.
Libretto: Volume 1: Vampirism will be available in April wherever fine comics are sold.
Have a comment? Post it here or drop a line to sue@blackgate.com.