New Treasures: The Big Book of Adventure Stories, edited by Otto Penzler
New Treasures: The Big Book of Adventure Stories, edited by Otto Penzler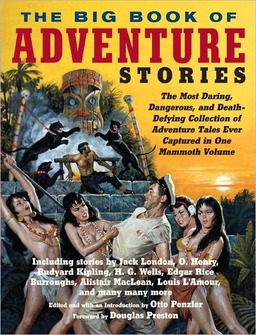 It shouldn't be a surprise that I love these big omnibus collections, and The Big Book of Adventure Stories is much bigger and omnibus-er than most. Weighing in at a generous 896 pages, it's Penzler's generous gift to those of us who love fast-paced pulp adventure… or just need a door stop (for a bank vault).
The massive volume is divided in 11 intriguing sections, including Sword & Sorcery, Man Vs. Nature, Island Paradise, Go West, Young Man (pulp westerns), Future Shock (science fiction), Yellow Peril (sinister Asian villains), and by far the largest, In Darkest Africa.
You can pack a lot of great authors into nearly 900 pages, and Penzer doesn't disappoint, including Robert E. Howard, Fritz Leiber, Philip Jose Farmer, Harold Lamb, Rudyard Kipling, Ray Cummings, Rafael Sabatini, Sax Rohmer, Cornell Wollrich, Louis L'Amour, and many others. Among other fascinating tales are the one that introduced The Cisco Kid, O. Henry's 1907 "The Caballero's Way," and Edgar Rice Burrough's complete novel Tarzan the Terrible.
Everyone loves adventure, and Otto Penzler has collected the best adventure stories of all time into one mammoth volume. With stories by Jack London, O. Henry, H. Rider Haggard, Alastair MacLean, Talbot Mundy, Cornell Woolrich, and many others, this wide-reaching and fascinating volume contains some of the best characters from the most thrilling adventure tales, including The Cisco Kid; Sheena, Queen of the Jungle; Bulldog Drummond; Tarzan; The Scarlet Pimpernel; Conan the Barbarian; Hopalong Cassidy; King Kong; Zorro; and The Spider. Divided into sections that embody the greatest themes of the genre — Sword & Sorcery, Megalomania Rules, Man vs. Nature, Island Paradise, Sand and Sun, Something Feels Funny, Go West Young Man, Future Shock, I Spy, Yellow Peril, In Darkest Africa — it is destined to be the greatest collection of adventure stories ever compiled.

Featuring: Lawless open seas, ferocious army ants, deadeyed gunmen, exotic desert islands, feverish jungle adventures.
Otto Penzler had produced a small library of massive anthologies over the past few years, including The Big Book of Ghost Stories (848 pages), Zombies! Zombies! Zombies! (832 pages), The Black Lizard Big Book of Black Mask Stories (1136 pages), and The Black Lizard Big Book of Pulps (a whopping 1168 pages). Perhaps my favorite is The Vampire Archives, which describes itself as "The Most Complete Volume of Vampire Tales Ever Published" — and at 1,056 pages, I believe it — which doubtless deserves its own New Treasures article.
The Big Book of Adventure Stories was published May 31, 2011 by Vintage Original. It is 896 pages in oversized trade paperback, priced at $25. The eye-catching cover is by Rafael Desoto.