Goth Chick News: Why Japanese Tire Commercials Are Cooler Than US Tire Commercials
Goth Chick News: Why Japanese Tire Commercials Are Cooler Than US Tire Commercials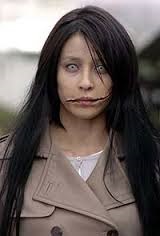 You're going to love this…
Autoway Loop, one of Japan's largest wholesalers of tires, has recently employed the image of Kuchisake-onna (the "Slit-Mouthed Woman") as its new "it" girl.
According to Japanese urban legend, Kuchisake-onna is a woman who is mutilated by a jealous husband and returns as a malicious spirit. When rumors of alleged sightings began in 1979 around Nagasaki, it spread throughout Japan and caused panic in many towns. There are even reports of schools allowing children to go home only in groups escorted by teachers for safety, and of police increasing their patrols.
Flash forward to 2013, to an ad agency somewhere in Japan who are tasked with making snow tires interesting.
The results are awesome (especially the guy with the high-pitched scream toward the end), though I'm not sure afterwards I'd remember someone is trying to get me to buy tires.
Take that, Michelin Tire marshmallow man…
Post a comment or drop a line to sue@blackgate.com.