Working with Stanley Schmidt
Working with Stanley Schmidt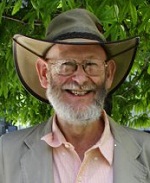 It's hard for me to believe that I worked with Stan for over thirty of the thirty-four years that he spent at the helm of Analog.
When I started at Davis Publications as an assistant in the subsidiary rights department, Stan was the imposing figure down the hall. Stan shared an office with Betsy Mitchell. He was the first person I ever knew who could work from home — he only came into the office three days a week.
Later, at management's request (because they were always after our office space), his schedule was reduced to just one day a week in the office, which suited him fine. Stan's assistant was responsible for mailing him a big box of slush manuscripts, and whatever else he needed, each month.
As I got to know him, I became less intimidated, but no less impressed. Stan is one person who has never lost the curiosity that drove him as a child. As a young person, this inquisitiveness led to science fiction and to being what would now be called a semifinalist in the Westinghouse Science Talent Search. As an adult, this curiosity has opened up many different avenues. He and his wife, Joyce, love nature and have a profound understanding of America's flora and fauna. They have hiked and/or backpacked all over the country.
My family and I have been fortunate to be invited on some of those hikes. Although they are both in terrific shape, the Schmidts are kind to their companions, even when we are not particularly fit or when we are accompanied by a three-year-old. Because they like to stop to look, marvel, and identify the leaves and birds and ferns and snakes around them, they set a relaxed pace. Still, we've all made it to the top of peaks and there is little in life more beautiful than the memory of picnicking while watching turkey vultures soar below us and listening to Stan play the recorder.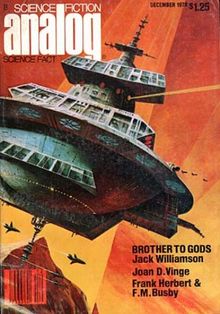 Stan's curiosity also led him to master numerous languages. Before a trip to a new country, he always picks up enough knowledge of the local language that he is able to communicate with the people who live there. These languages range from Spanish, German, and Polish to Swahili and Japanese. I know that Stan has translated at least one story from Spanish for publication in Analog.
His Ph.D in physics and his interest in all branches of science meant that he never tired of reading essays about new developments and encouraging writers to explore where science's inroads would take us. He was also an ideal reference source for me.
On a couple of occasions, I approached him with questions about the science in a story. One was a tale that, while beautifully written, contained a scientific element that struck me as ridiculous. Stan read over the paragraph in question (the one upon which the entire story really hinged).
Then he told me that, yes, the science was ridiculous. Still, if anyone could be said to have come up with a way to make it sound convincing, this author had. I bought the story with Stan's blessing.
Stan's multiple talents mean that besides being a physicist, science fiction writer, editor, and polyglot, he is also a gourmet cook and has been a licensed pilot. Until shortly before he retired from Analog, he was also a card-carrying member of a professional musicians' union. He played the trumpet regularly for the Danbury Symphony Orchestra, among other gigs.
Analog was sold three times during Stan's tenure. We survived two of these sales together. I can't think of a better person to have in charge of watching my back during such a transition. Stan was always calm and reasonable, yet very firm about making sure that each new publisher understood our commitment to the integrity of our magazines.
Stan showed me how to develop an editor's backbone as well. He pointed out that the best stories are as likely to be criticized as they are to be praised.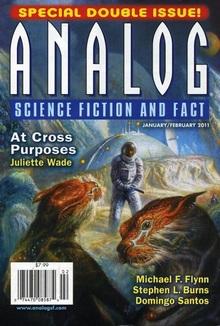 One piece of advice, that has stayed with me always, is that when it comes to politics in stories, people only notice the points they don't agree with. No matter how many examples to the contrary, some people will insist that you have an agenda. Many stories will offend someone, so go ahead and publish what you like.
While Stan always wished that we had the funds to restart Unknown, he remained committed to Analog's place as an upholder of hard science. Once, this was to my gain. He had a terrific story by one of his favorite authors. Yet, he knew that the science in the story was not convincing enough for his magazine. He felt strongly, though, that the story deserved publication and brought it to my attention. I bought it and the tale ended up on the Hugo ballot. Stan wasn't surprised and he wasn't sorry. The story may not have been right for Analog, but it was excellent and warranted celebration.
For years, we were not in a position to accept electronic submissions from authors. Once Neil Clarke offered to help us set up an online system for Asimov's, Stan said he was game to have the same type of system developed for Analog as well.
Stan read every story submitted to Analog, so initially he wasn't exactly thrilled when the volume of slush submissions doubled. Then a flight he was on was snowbound for twenty-four hours. Finding himself at a hotel with a months' worth of stories on his Kindle, he quickly warmed to the change. He was delighted to see the increase in international submissions as well.
And no one in the office missed the monthly box. Although Stan was only a couple of years away from retirement, that natural appetite for new experiences quickly helped him adapt to this brand new way of reading manuscripts.
I miss having Stan around to talk shop and engage in discussions on just about every other topic imaginable. With any luck, it won't be too long before we get the chance to take a trip south and hike once again with Stan and Joyce near their new home. After all, my husband and I and our children have lots more to learn about the flora and fauna of North America.
---
Sheila Williams is the editor of Asimov's Science Fiction magazine.
Photo by Liza Groen Trombi for Locus Online.