Goth Chick News: Elijah Wood Gets Too Freaky for New Zealand
Goth Chick News: Elijah Wood Gets Too Freaky for New Zealand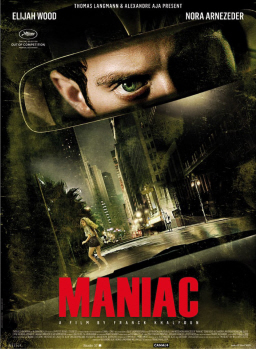 Anyone who saw Sin City knows that Elijah Wood can be one creepy dude.
Forget the lovable, hairy-footed Fodo Baggins. As easily as Woods can tear up and give good old Sam Gamgee a hug, he can drop into the role of a glassy-eyed, sociopathic killer with disturbing believability.
Believe me. Because apparently, Wood has his craft so finely tuned that he has managed to skeeve out an entire country.
In a decision revealed Wednesday, New Zealand's Office of Film and Literature Classification (OFLC) banned Franck Khalfoun's film Maniac starring Elijah Wood from general screening in New Zealand, saying it can't be shown outside of film festivals.
The ruling also means the movie can't be distributed on DVD at a later date.
A remake of William Lustig's grindhouse cult classic from 1980, Maniac opened in the U.S. last month courtesy of IFC Midnight and had its world premiere at Cannes in 2012.
It was due to screen next at the New Zealand International Film Festival, running July 26th through August 11th.
Explaining the ruling, a representative for the New Zealand fest said that the OFLC informed them that:
The POV ("point of view") nature of the film mixed with the psychopathic behavior of actor Elijah Wood is more than disturbing, that it's potentially dangerous in the hands of the wrong person — that is, a non-festival-goer.
Neil Foley of Monster Pictures, the film's Australia-based distributor, said in a post on the company's website:
Banning the film beyond festival screenings is an insult to the intelligence of the adult population of New Zealand and does little more than to serve as an open invitation to illegally pirate the film.  We will explore every option to have the banning revoked, but at this stage it [isn't] looking good.
In a blatant statement of intent that was already crystal clear, the OFLC's web address is www.censorship.govt.nz.
No s***.
Frankly, I don't think Maniac looks all that disturbing.  Trailer isn't red band.  I mean, did you cast an eye over Frankenstein's Army last week?  Maniac isn't a cinematic masterpiece by any means… but banned?
Outrageous.
Here, have a look for yourself.
Now, post a comment and tell me whether or not you would ever take that Hobbit tour of New Zealand.  And whatever you say, I promise to not censor it.