Jean Rabe Resigns as SFWA Bulletin Editor Amidst Controversy Over Sexist Articles
Jean Rabe Resigns as SFWA Bulletin Editor Amidst Controversy Over Sexist Articles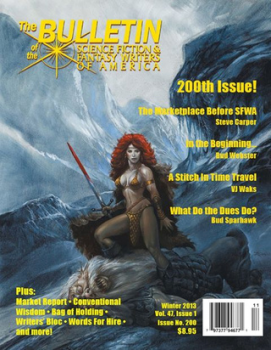 Jean Rabe, editor of the Bulletin of the Science Fiction Writers of America, has stepped down following a series of controversies in recent issues.
The problems began with the now-infamous issue #200, pictured at right, featuring a Jeff Easley Red Sonja cover. Mike Resnick and Barry N. Malzberg, in their long-running column, wrote about "lady editor" Bea Mahaffey (among others), glossing over her significant accomplishments in the field to focus on her looks. In issue 201, CJ Henderson praised Barbie for maintaining "quiet dignity the way a woman should." But things really blew up with issue 202, in which Resnick and Malzberg responded to mounting criticism by crying about censorship.
There's been a great deal written about this in the blogosphere and fan press in the past month (Charlie Jane Anders at io9 has an excellent round-up), but I think Benjamin Rosenbaum put it best in his June 3 open letter "Dear Barry & Mike":
It takes a certain kind of willful blindness not to get that slathering wolf whistles all over your tribute to women editors of years past might piss off… well, pretty much anyone born after 1960.

It's not that we don't know how it was when you guys came up. We know that back in the day, talking loudly about Andre Norton looking good in a bathing suit was supposed to be a gracious compliment about which she should be merrily grateful… We know this. We get it. We can make the imaginative leap to your context.

What upsets me, though, is that you apparently can't make the imaginative leap to our context. You apparently don't get that talking about how hot an editor is in a skirt — not in a love letter or a roast or an autobiographical reminiscence, mind you, but… in the central house organ of her writers' organization — is, for us, kind of disgusting…

And then, honestly guys, the confused ramble about censorship?… That's just painful. Like, if you say something that sucks, and we tell you it sucks, that's… censorship? Stalinism?
SFWA President John Scalzi issued an apology to readers of the SFWA Bulletin on June 2.