The Top 12 Black Gate Fiction Posts in March
The Top 12 Black Gate Fiction Posts in March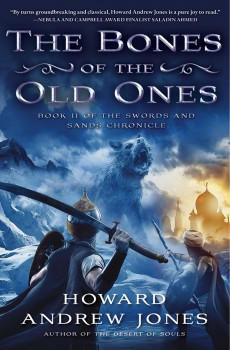 Novel excerpts were the top draw last month, as Howard Andrew Jones held the top spot for a third month in a row with tantalizing slice of sword-and-sorcery goodness from The Bones of the Old Ones, followed closely by The Waters of Darkness, the new supernatural pirate novel from from David C. Smith and Joe Bonadonna. And Vaughn Heppner's novel Star Soldier was not much further down the list.
Still, short fiction proved plenty popular, with stories by Aaron Bradford Starr, Joe Bonadonna, David Evan Harris, Judith Berman, E.E. Knight, Gregory Bierly, John R. Fultz, Harry Connolly and Vaughn Heppner filling out the Top 12.
If you haven't sampled the adventure fantasy stories offered through our new Black Gate Online Fiction line, you're missing out. Every week, we present an original short story or novella from the best writers in the industry, all completely free.
Here are the Top Twelve most read stories in March, for your enjoyment:
The complete catalog of Black Gate Online Fiction, including stories by Ryan Harvey, Steven H Silver, Nina Kiriki Hoffman, Emily Mah, C.S.E. Cooney, Howard Andrew Jones, Harry Connolly, and many others, is here. The most popular Black Gate fiction from February is here.
We've got plenty more fiction in the coming months, so stay tuned!