Steampunk Spotlight: Cherie Priest's Ganymede
Steampunk Spotlight: Cherie Priest's Ganymede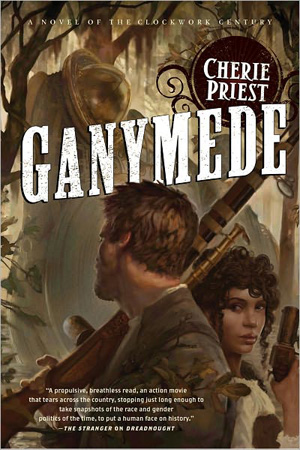 Ganymede (Amazon | B&N)
Cherie Priest
Tor (350 pp., $14.99, October 2011)
Reviewed by Jackson Kuhl
On the eve of the fall and subsequent occupation of New Orleans by the Union in 1862, lawyer and amateur engineer Horace L. Hunley, along with his two investment partners, scuttled their submarine Pioneer in a canal to prevent its seizure by the Federals. They may, or may not, have likewise scuttled a second submarine near Lake Pontchartrain; there are no records for this sub and its design departs from Hunley's other efforts. The trio fled to Mobile, Alabama, to build another sub, which sank, and yet another, the H.L. Hunley, which drowned its namesake, then successfully torpedoed the Union blockade ship Housatonic before itself swamping in Charleston Harbor during its return.
In the alternate history of Cherie Priest's latest Clockwork Century novel, Hunley and his partners constructed a fifth submersible, the titular Ganymede, which sank near New Orleans. The Civil War has stretched into the late nineteenth-century and the city is occupied by the Confederate-allied Republic of Texas. Now a team of pro-Union guerrillas has recovered Ganymede and, hopeful the machine can end the war in the Union's favor, intends to transport it down the Mississippi River — past the Texians searching for it — to a waiting U.S. battleship in the Gulf. All of this is orchestrated by freedom fighter Josephine Early, a black whorehouse madam and Union agent. With no one experienced enough to pilot the sub, Early hires airship captain Andan Cly (who also happens to be her ex-lover, natch) to "fly" Ganymede under the river and the Texians' noses to the rendezvous.
Priest has cooked together espionage, a rich setting, intriguing characters, and a plot that could have been stolen from Alistair Maclean. It's a great gumbo — providing you ignore there's not an ounce of suspense to be tasted. Spoilers ahoy!
The first half of Ganymede consists of Priest lining up her chessmen for the great escape. Chapters alternate between Early in New Orleans, filled with sneaking around and exciting zombie chases, and Cly in Seattle, site of previous books in the series. The soap-opera housekeeping of these latter chapters — status reports of old characters, news about who is romantically interested in whom — are skimmable, yet les bon temps fail to rouler even after Cly and his crew take to the skies. Reading about their voyage toward the Big Easy is like… well, like watching a guy drive from Seattle to New Orleans. Nothing much happens and they arrive safely.
Once Cly drops anchor in NOLA (and frankly, this is where Priest should have opened the book), there's more cloak-and-dagger shenanigans but without risk. No one is ever captured or so much as stopped in the street; and all of the dastardly Texians we meet are well-mannered and oblivious. And here's the big spoiler: the plan to move Ganymede from Lake Pontchartrain to the Gulf succeeds without a hitch. None of the machinery breaks. No one is injured or killed. The biggest twist involves the sub and its crew making a last-minute detour. I kept waiting for an underwater zombie attack or a betrayal or Texian ambush or a hurricane — or even a bad rainstorm — but none of it occurs. I've seen more dramatic tension in episodes of The Brady Bunch.
Priest is a competent stylist and a fine speculative writer (I liked, for example, her suggestion that cast-off dirigible and diesel technology would naturally lead to jerry-built horseless carriages); and Ganymede, with its brown typeface and Wild Wild Nouveau cover design is a highly polished volume. Yet the absence of villains and challenges makes it read more like an RPG sourcebook than a novel. I would love to travel farther through Priest's Clockwork Century — but only if she learns to push her plots and characters harder.
Other Steampunk Spotlight posts: