Steampunk Spotlight: Cherie Priest's Dreadnought
Steampunk Spotlight: Cherie Priest's Dreadnought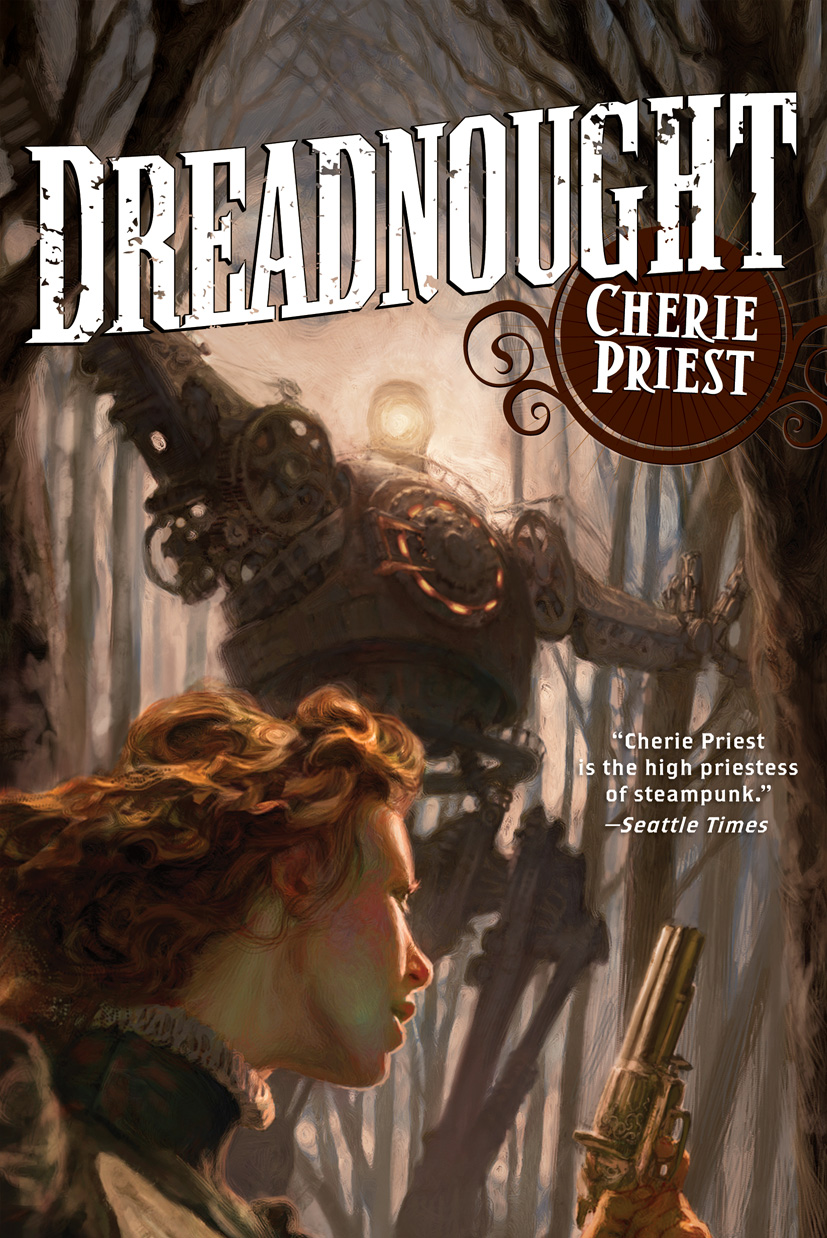 Dreadnought (Amazon, B&N)
Cherie Priest
Tor (400 pp., $14.99, 2010)
Reviewed by Andrew Zimmerman Jones
Cherie Priest returns to her "Clockwork Century" in full force in this third novel. In some ways, I would recommend that readers begin with Dreadought, even though it's the third book in the series. Basically, the plot twist at the end of Dreadnought is the entire premise of Boneshaker, as I'll explain later in the review. (Spoiler-ish alert!)
The book focuses on Mercy Lynch, a Confederate nurse whose husband has just died fighting for the Union. (Gotta love those border state romances!) She receives word from her father – who left her as a child – that he is dying, and he would like her to visit him in the Washington territory. That father is Jeremiah Swankhammer, who readers of Boneshaker will recognize as one of the key characters in that story.
With nothing really to keep her in Virginia, she sets off on a cross-country journey by airship and train to reach Tacoma and, ultimately, Seattle.  Unfortunately, the only train that can get her from St. Louis to Tacoma is the Union steam engine Dreadnought, and the train is carrying some bizarre cargo … cargo which makes the train trip into a harrowing ride that brings Mercy and the other passengers into conflict with bushwackers, a mad scientist, and even zombies!
As I said in my review of Boneshaker, Cherie Priest really does a good job of writing a good action movie. There's a cinematic style to her storytelling and pacing of events. She doesn't get bogged down in excessive character development, but there's enough to make you actually care about the peril the characters are in. Each character does have their own distinctive personalities and voices. Dreadnought makes these elements of her storytelling shine in an even more impressive way than her previous books in the series.
That having been said, I did feel that the ending of Dreadnought was somewhat weak. One of the things that I genuinely liked about Boneshaker was that there's a nice twist at the ending, where you discover something new about the main character which makes everything that came before take on just a slightly different perspective. Dreadnought sort of feels like it's heading in that direction at the end, but never quite delivers.
While the journey across country is gripping, everything about Mercy's eventual arrival in Seattle is anticlimactic, despite the presence of various characters from the previous two books. Mercy discovers the source of some of the strangeness she's encountered, but those of us who read Boneshaker already knew what caused the zombies.
In other words, at the end of the book Mercy has a revelation, she has a greater understanding of what has been happening, but the reader does not.
Still, Dreadnought is a fun, fast-paced action novel, and those who like to devour such books will find it a treat. If the Boneshaker film comes to fruition and does well, I have no doubt that Dreadnought will quickly follow on its heels. This is a novel that was made to be shown on a big screen.
Other Steampunk Spotlight posts:
---
Disclaimer: A copy of this book was provided by the publisher for review purposes.
Andrew Zimmerman Jones is a writer of fiction and non-fiction. He has been a finalist in the Writers of the Future contest and received Honorable Mention in the 2011 Writer's Digest Science Fiction/Fantasy Competition. In addition to being a contributing editor to Black Gate magazine, Andrew is the About.com Physics Guide and author of String Theory For Dummies. You can follow his exploits on Facebook, Twitter, and even Google+.