The Thackery T. Lambshead Cabinet of Curiosities
The Thackery T. Lambshead Cabinet of Curiosities
The Thackery T. Lambshead Cabinet of Curiosities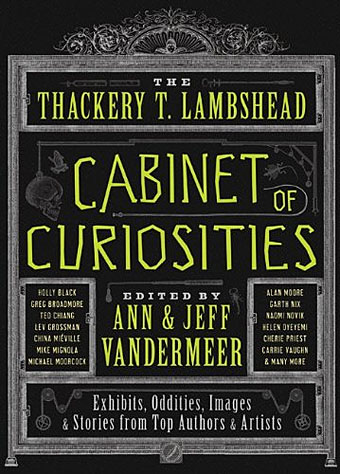 Edited by Ann and Jeff VanderMeer
Harper Voyager (320 pp, $22.99, July 2011)
Dr. Thackery T. Lambshead (1900 – 2003) was a fictional collector of the arcane. His cabinet was no mere front room shelving unit of Cracker Barrel knick knacks and China plates. Think pickled punks, death rays and human skulls that scream uncontrollably during new moons. It is unclear whether Lambshead's entire home was his cabinet, as visitors were not regularly allowed and tours were given only under duress, but it has been rumored that the whole of his estate in Wimpering-on-the-Brook, England was of museum exhibition quality. If you were speculating where the wonder-bits of the world went, the terrifying bygones, the transmundane thingamajigs – Thackery T. Lambshead had them.
Though he spent his hundred-and-three years surrounded by dangerous oddities, precarious art installments and occult objects, Dr. Lambshead didn't shuffle off to the Greater Unknown through a latent Crowley curse, an infection from preserved plague rats or squashed under one of his many mechanical animals (rumored to be gods). He died of dishwater-dull heart failure. It's not exactly that I rejoice in his demise…it's just…well, now that he's gone Ann and Jeff VanderMeer have finally been able to intensely study his collection and thereby release, The Thackery T. Lambshead Cabinet of Curiosities, an anthology of what they and other artistic scholars found.
This is not your standard anthology. We aren't talking short stories here. Well, maybe we are. A little bit, but the Cabinet of Curiosities is so much more than that. It's a fictitious encyclopedia of weird history as collected by one man. It's a self-referential, archival catalog. It's a critical analysis of fine art. It's GORGEOUS! I mean, did you see the cover on that thing? People keep proselytizing about e-books taking over the universe, but there will always be room in people's lives for objets d'art and The Thackery T. Lambshead Cabinet of Curiosities is one of them. If the Toxic Avenger green (and filigreed!) cover doesn't grab you, how about any of the over seventy illustrations and
photographs inside?
Why yes, that is the art of Mike "Hellboy" Mignola and who knew that China Miéville could draw? Well, he does. Excellently. Miéville has several illustrations included, in addition to his fabulously researched account, "Pulvadmonitor: The Dust's Warning." What does the dust have to warn us about? Does dust even talk? Dr. Lambshead had an object in his collection that had the answers to these questions. It involves a cleansing event at a dental museum and a head in a jar.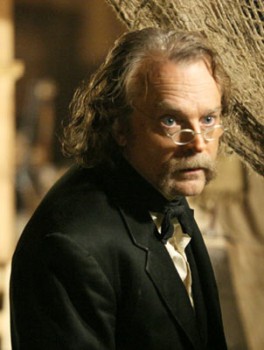 Back to the illustrations…I think the only thing that this anthology is missing is a portrait of the man himself. I know. This isn't a failure. It gives the reader a chance to fill in Lambshead's face for themselves. Which I did. I imagined Dr. Lambshead to look like an elder, refined Brad Dourif, possibly with his Deadwood glasses and curls.
Here's a mistake: to try and read this anthology all at once. Let it go slow. Read it in pieces. It has more archival and catalog-style entries than it does short stories and if you read too many at once, you might start to feel like you are lost in the cabinet, rather than enjoying it. Here and there, an author's attempt at academic-speak gets a little bit heady and my brain wandered, but for the most part, the re-read was worth the effort – like in the Miéville-illustrated account, "The Gallows Horse," by Reza Negarestani.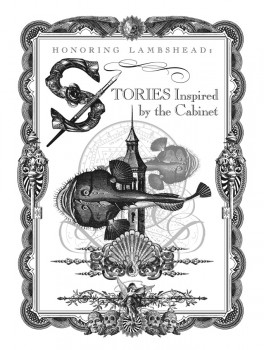 The anthology is separated into distinct sections:
Holy Devices and Infernal Duds
Honoring Lambshead: Stories Inspired by the Cabinet
Microbial Alchemy and Demented Machinery: The Mignola Exhibits
The Miéville Anomalies
Further Oddities
Visits and Departures
and A Brief Catalog of Other Items.
In Holy Devices and Infernal Duds, the intellectual tone of Lambsheadology is supremely set by Ted Chiang's "Dacey's Patent Automatic Nanny." The next section, Honoring Lambshead had two of my favorite stories. Garth Nix's "Ambrose and the Ancient Spirits of the East and West" was an adventure tale full of oracular lanterns, incantation-incited bullets, demon mouths growing out of your leg muscle and king oak trees. Meanwhile, Holly Black's "Lot 558: Shadow of My Nephew by Charlotte Wells" details one family who raised a baby bear as their son.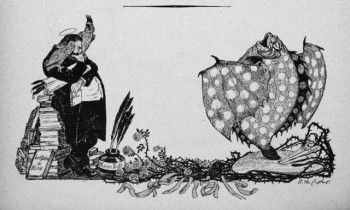 Each section has at least one account that everyone will like and most likely, more. Every other page a prestigious name is popping out at you. Lev Grossman, Caitlín R. Kiernan, Michael Moorcock, Alan Moore, Cherie Priest and Naomi Novik are all there and that's not even the half of them. But the VanderMeers have a mastery of rooting out new talent – like Amal El-Mohtar (who admittedly, I met at WisCon and again at ReaderCon and she is equal parts brilliant and kind). Her faux critical analysis of Lambshead's pen and ink and watercolor reproduction of "The Singing Fish" was my second favorite work in the Cabinet of Curiosities, behind Miéville's dust-honoring narrative.
Whatever you do, don't skimp out on reading the last section, A Brief Catalog of Other Items. It may look like a mash of miscellaneous, but that's what it's supposed to be. What? You thought Dr. Lambshead was organized or had themes to his collection? No. He liked quizzical gizmos and esoteric whatsits and here they are in an alphabetical list. If you are a writer and need a story spark, you'll find it there. Even if you aren't a writer, you don't want to miss out on the Coffin Torpedoes, Fly Harnesses, South American Insult Stones or Dracula's Testicles. Seriously, smalls, Dracula's Testicles.
Here's hoping Lambshead didn't find a way to raise himself from the grave ten years after the fact to hex us for sorting through his special things. Even so, a peek into The Thackery T. Lambshead Cabinet of Curiosities, with its rogue taxidermy, aborted minotaur-references, religious relics and the key to Castleblackeney, might be worth a dab of damnation.