The Unqualified Unique: The Daily Mail Interviews Me for Clark Ashton Smith's 50th Morbid Anniversary
The Unqualified Unique: The Daily Mail Interviews Me for Clark Ashton Smith's 50th Morbid Anniversary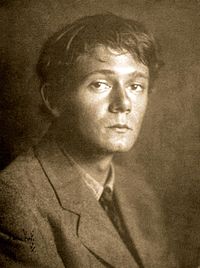 Sunday was the fiftieth anniversary of the death of Clark Ashton Smith. We morbid fans of a writer with a delectable taste for morbidity love to celebrate death anniversaries as much as birth ones, and the seduction of the half-century mark is too great to dismiss.
My own celebration ended up in the hands of others, however. Two weeks ago, Jim Planck, an editor for The Daily Mail, a New York State newspaper, contacted me about doing an interview to commemorate Clark Ashton Smith's death for a Sunday feature. He had come across my articles on Smith on Black Gate (here, here, here, and here) as well as on my website, and thought I could contribute to the article.
It's flattering to realize that others have started to view you as an expert on one of your favorite authors. I dream that one day a publisher will ask me to edit and/or write an introduction to a collection of the works of either Clark Ashton Smith or Cornell Woolrich.
The Daily Mail Sunday edition does appear on-line, but the C-1 section of the paper doesn't. (And unless you live in the Catskills and have access to the Daily Mail or its sister paper out of Hudson, NY, The Register-Star, you won't be able to see it in print.) I've brought the full text of the interview over to Black Gate so you can hear me heap more praise on CAS.
1. When did you first get exposed to Clark Ashton Smith?
Oddly, I first met Mr. Smith through Dungeons & Dragons. I was playing the game back in third grade when a module called Castle Amber by Tom Moldvay was released. Part of the adventure takes place in Clark Ashton Smith's medieval setting of Averoigne, and the module's introduction gives full credit to him for it. The last page lists where reprints of the Averoigne stories could be found. I remember going to the local library to try to find those volumes — all Arkham House editions — and of course, failed. It was the '80s, good luck finding anything in print, kid. I thought maybe D&D made the guy up. It wasn't until college when I started reading H. P. Lovecraft and Robert E. Howard that I saw the name "Clark Ashton Smith" again. I didn't make the connection back to the third grade until I saw the title "The Colossus of Ylourgne," and I realized, "Hey, that's the guy! The one I couldn't find when I was nine!" Now I had to read him, if only for childhood fulfillment. I ended up discovering one of my favorite authors. (Honestly, I wouldn't have enjoyed him at age nine, so it worked out fine.)
2. What is it about his prose writings that you feel were his specialties as a weird tale/fantasy author? What were his trademark qualities?
There are three aspects about Clark Ashton Smith's prose fiction that I would consider his trademarks. Ray Bradbury nailed the first when he said that Smith's writing is "sensually compelling." His language is poetic, dense, and stirs all the reader's senses. It's much like heavy red wine. Second are Smith's favorite themes of regret, loss, and the unreachable past. Third is the way he mixed genres into a gumbo that is hard to label. His science-fiction stories read much like fantasy. His fantasy stories blend into horror. His horror feels fantastic. It is this elusive aspect that made him perfect for Weird Tales — but hard for modern publishers to figure out how to promote.
3. What aspect of his writing style do you personally like best about him?
It comes down to language. I don't believe writers today can get away with playing with English the way that Smith did. Most of my favorite authors use prose beautifully, often in amazing ways; but with Smith, his use of prose is more important than anything else in his stories. It's why they exist. I also think that Smith "transports" better than any fantasy or science-fiction author I've come across. Nothing about his writing speaks of "today," whether the today of when it was written, or the today of whenever you read it. When you read as much fantasy and science fiction as I do, it is easy to become inured to getting carried off to another world. But Smith pulls it off every time I read him again.
4. Which of his works are your personal favorites and why?
The two that first come to mind are "The Empire of the Necromancers," which is the first Zothique tale, and "The Vaults of Yoh-Vombis," a Mars story. They work as introductions to Smith's writing for newcomers, and capture in a short space what he excelled at. "The Empire of the Necromancers" is a concentrate of stunning, archaic words and the feelings of loss and regret that infuse much of the author's work. "The Vaults of Yoh-Vombis" shows Smith pulling together genres: it's a science-fiction setting with a horror plot and a fantasy aura — and works as all three. Brilliant!
My other top choices: "The Colossus of Ylrougne" for its epic reach; "The Seven Geases," which is essentially a prolonged joke, but a hilarious one; "The Return of the Sorcerer," one of Smith's best contemporary-set works of horror; "The Dark Eidolon," another epic filled with astonishing language and bitter irony; "The Double Shadow," a Poseidonis tale about inescapable doom, which was also one of Smith's favorites among his own work; and "Xeethra" and "The Last Incantation," bittersweet and gentle stories about the curse of memory.
5. Most importantly, why should people read Clark Ashton Smith?
There's a grammar rule that gets abused constantly today: the adjective "unique" should not be modified. It is impossible for something to be "very unique," or "rather unique." It's on or it's off, folks. And that rule works perfectly for Clark Ashton Smith: he is unique, no modifier. Some writers have parts of his style, such as Jack Vance. But Vance is definitely his own writer with his own style, not a Smith clone. I have never found a "Smith Clone." Many great writers can produce clones: J. R. R. Tolkien inadvertently started an industry of clones. No such thing for Smith, and there never will be. People should read him because there are so, so few authors in history that deserve the unmodified "unique."
6. How long has RealmofRyan.com been up and running, and how did it come about?
RealmOfRyan, which I've now officially re-titled RyanHarveyWriter.com (although the old address still works) started in 2007 because I wanted a place to write movie and book reviews. This was right before I became a weekly columnist for Black Gate's website, so the two projects dovetailed nicely. In the last year, after I won the Writers of the Future award and started to sell fictional professionally, RyanHarveyWriter has turned into my "writer promotion site" more than anything else, with links to places where I'm being published, a contact for my literary agent, and whatever I do on Black Gate. I seem to primarily review movies on the site these days, plus I have running review series of the Captain America comic book and the original Twilight Zone episodes.
7. Anything further about CAS that I've overlooked asking, and that you wish to include?
I've considered what might have happened to Smith's career as an author if he had continued to steadily produce prose fiction, instead of leaving the medium (with occasional, brief returns) after 1937, with almost a quarter century of life left to him. Had he continued, I believe that Clark Ashton Smith would have become one of the first, great erotic fantasy writers. He used sexuality in many of his pieces, particularly "The Death of Ilalotha" and "The Witchcraft of Ulua," but the strictures of publishing of the time held him back from expressing it fully. ("Mother of Toads" was expurgated when Weird Tales published it, and that wasn't even "sexy" sexuality.) He had planned an erotic fantasy novel called The Scarlet Succubus, but never wrote it, which as a CAS fan really hurts. There is good erotic fantasy today, but the field might have been very different if Smith allowed himself use of his full power of language and his bizarre imagination on sex in the world of the fantastic.
Our recent coverage of Clark Ashton Smith includes:
New Treasures: The End of the Story: The Collected Fantasies, Vol. 1 by Clark Ashton Smith
Vintage Treasures: The Timescape Clark Ashton Smith
The Shade of Klarkash-Ton by James Maliszewski
One Shot, One Story: Clark Ashton Smith by Thomas Parker
New Treasures: The Dark Eidolon and Other Fantasies by Clark Ashton Smith
The Crawling Horrors of Mars: Clark Ashton Smith's "The Vaults of Yoh-Vombis"
Deepest, Darkest Eden edited by Cody Goodfellow by Fletcher Vredenburgh
Adventures in Stealth Publishing: The Return of the Sorcerer
A Few Words on Clark Ashton Smith by Matthew David Surridge
The Unqualified Unique: The Daily Mail Interviews Me for Clark Ashton Smith's 50th Morbid Anniversary by Ryan Harvey
Of Secret Worlds Incredible: A Psychedelic Journey into Clark Ashton Smith's Poetic Masterpiece by John R. Fultz
The Fantasy Cycles of Clark Ashton Smith Part I: The Averoigne Chronicles by Ryan Harvey
The Fantasy Cycles of Clark Ashton Smith Part II: The Book of Hyperborea by Ryan Harvey
The Fantasy Cycles of Clark Ashton Smith Part III: Tales of Zothique by Ryan Harvey
The Fantasy Cycles of Clark Ashton Smith Part IV: Poseidonis, Mars, and Xiccarph by Ryan Harvey