Thor and the Fear of Fantasy
Thor and the Fear of Fantasy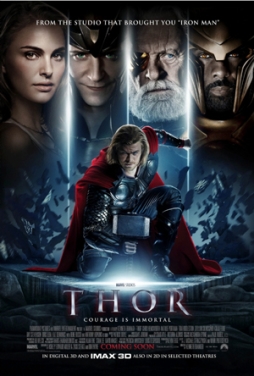 As a good Shakespearean, Kenneth Branagh understands fantasy. I think the movie Thor succeeds mostly because of what he as a director brings to the film, and what he's able to get out of his cast. What's missing seems to be what the script doesn't give him — a larger world, memorable supporting characters, and a willingness to engage with the matter of fantasy.
The tale's simple enough. Following an incursion of evil frost giants into the realm of Asgard, Thor, son of Asgard's ruler Odin, leads a retaliatory raid against the giants; because this endangers a fragile peace between the realms, Odin exiles Thor to earth, stripping him of his power. Thor and his magic warhammer Mjolnir materialise in New Mexico, where he's befriended by rogue cosmologists, deals with agents of the superspy organisation S.H.I.E.L.D., and struggles against the plots of his brother Loki. Thor ultimately has to regain his power to return to Asgard to save all the worlds from Loki's schemes.
It's an enjoyable adventure movie. The set-pieces are well staged, the design of the visuals are distinctive, and the actors sell the material by consistently hitting the right balance between the grounded and the larger-than-life. But the script of the movie struggles to fit the mythic material at the core of the story into standard superhero movie structures.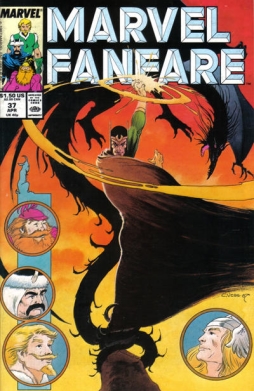 Charlie Jane Anders sums up the typical superhero movie plot here: "Clueless loser. Gets superpowers. Shirks his destiny. Faces his destiny. Meets super-baddy. Loses. Faces his darkest hour. Fights super-baddy again. Wins. The end. Yay!" Thor's basic premise forces it to start differently; at the beginning of Thor the main character's not a loser, though he is clueless about a number of things. But the familar plot structures soon manifest, so though Thor begins the movie as a god possessing godly powers, the movie takes those powers away from him so he can earn them back. As soon as he performs an act of self-sacrifice, his godly nature returns.
Of course big Hollywood movies live off of the familiar. And given the amount of money sunk into the making of a major film, that's understandable. But the use of familiar plot structures feels here like a way of domesticating the unfamiliar; a way of making the threateningly unpredictable more mundane. I think that's a particular problem here because the comic Thor at its best feeds on the energy and colour of high fantasy. Take that away, and I think you risk diminishing the vitality of the whole project.
Look at the movie's supporting cast, perhaps its weakest element. The Warriors Three are wonderful characters in the comics, roughly the Three Musketeers as Norse Gods. In the movie, though, they're sadly colourless. Hogun isn't grim enough, Fandral isn't dashing enough, and Volstagg is nowhere near voluminous enough — or cowardly enough, or funny enough. And Sif, a Norse fertility-goddess reimagined by artist Jack Kirby as a black-haired warrior-woman, is sidelined by the movie in favour of the always-less-interesting Jane Foster.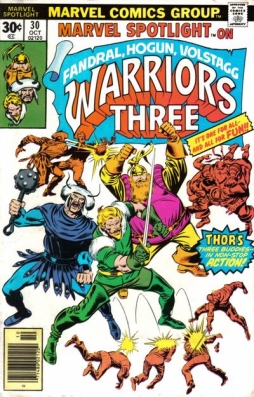 At the same time, Asgard overall is poorly imagined, and the movie suffers for it. There's no sense of the Asgardians as a people, as a culture or a community, meaning that Odin's role as their king or Thor's role as their prince feels meaningless. Indeed, Asgard seems oddly underpopulated. It looks nice, with breathtaking camera moves past eye-popping designs, but where are the people?
Frankly, the movie doesn't want to deal with them. They're not actually gods, the film suggests; they're powerful aliens who were worshipped by the Norsemen of a thousand years ago after they saved the world from the giants, another race of aliens. This is a bad idea from recent Marvel comics — I don't know that the notion was around before Alex Ross' tedious out-of-continuity miniseries Earth X — which is disturbingly reminiscent of an old Star Trek episode ("Who Mourns for Adonais," if you want to be precise). I think the idea actually works in Star Trek, which is supposed to be science fiction. But here it seems like a fantasy mileu, and a fantasy story, is being forced into a science-fictional form.
Part of the reason seems to be a desire on the part of Marvel to set up the upcoming Avengers movie. Characters like Iron Man and Captain America are "grounded," they reason, more science-fictional in nature, so therefore Thor needs to be made science-fictional as well. I'm skeptical. To me, one of the appeals of super-hero comics in general, and team books in particular, is the way in which different genres can mix together. So you can have a team with, say, a god, a man in high-tech armour, a super-soldier, a telepathic martial-artist raised by alien priests, a couple of mutants, a robot (or "synthezoid"), and a guy who happens to be really good with a bow and arrows — and somehow it makes sense (the bowman, as it happens, appears in Thor; again, following a recent Marvel re-imagining, it seems to me they've misunderstood him totally, taking a character whose defining trait is an inability to take orders gracefully and forcing him into a role within a military chain of command). Perhaps what's most admirable about the super-hero story, when done well, is its imaginative wildness; the complete lack of bounds on the imagination, the sense of a universe large enough to include any kind of story. But Marvel seems here to be backing away from that.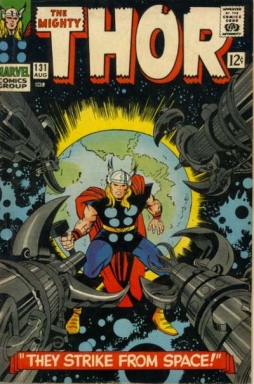 Certainly Thor the comic at its best distinctively fused fantasy with science fiction. Kirby had Thor encounter aliens (the Colonizers of Rigel, for example), a super-evolved human geneticist called The High Evolutionary, and even a living planet. Walt Simonson, whose work on the book is commonly agreed to be the best since Kirby's, continued that theme by having Thor meet an alien hero named Beta Ray Bill, who was leading his people on an exodus out of the Burning Galaxy — which turned out to be Burning because it was the workshop where Surtur the flame giant was forging a sword with which to destroy the universe. The mix of high fantasy and epic science fiction not only made the book a highly individual tone, but gave it power and scope even in a genre known for wild high concepts.
Enjoyable as the movie is, there's little of that wildness. There is, if anything, a movement away from the challenging. Which seems limiting when much of the matter of the story comes out of fantasy and myth, and so by its nature aspires toward a mythic tone.
It's been said that Thor's difficult to sell as a comic. High sales on a recent relaunch of the book were credited to the fact that there'd been no regular Thor book for four years before the relaunch. I wonder, though, if it's not the case that Thor is difficult for a lot of creators to get their heads around. In general, it seems that the current wave of creators at Marvel is more comfortable with science-fiction stories than fantasy stories, and perhaps more comfortable with crime and espionage stories than either. And Thor is a quintessentially fantastic work.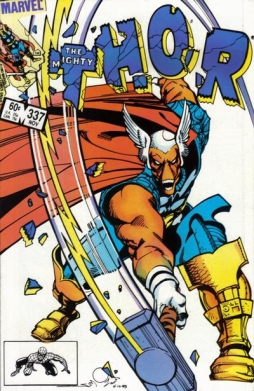 Both of the book's two classic runs, by Jack Kirby and by Simonson, were products of very distinctive sensibilities, and indeed of very personal relations to the source material (in the case of the Kirby run, with scripter Stan Lee desperately trying to keep up). Simonson was conscious of his Norse roots, and tried to bring a real sense of the Viking myths into the book. And Kirby, one of the most powerful creators in the history of the medium, worked into Thor his own fascinations with myth, evolution, and power; not only one of his greatest works, Kirby's Thor also leads directly into his Fourth World cycle of stories, which began with the words "There came a time when the old gods died!" — said "old gods" being fairly clearly shown to be the Marvel Asgardians.
I think that to the extent the Thor movie works — and I feel it does work, a fair bit — it's because Kenneth Branagh was able to create a solid imagining of his own of the characters and background of the story. There's much Kirby in his Asgard, and in the character designs. But they work as film creations in their own right. The effects shots of Asgard are unreal, but thoughtfully so — they're the right kind of surreal to create the sense of a location that's both unearthly and beautiful. I may want more of a sense of the people who live in the place, but as a place it's distinctive and fantastic.
When the movie succeeds, it is, in fact, mythic. Odin appears early in the film on horseback; the film artfully doesn't draw attention to the fact that the horse has eight legs. The backstory that it reveals, of ancient wars between gods and giants, of a prince raised in the house of his people's enemy without knowing his true identity, has the timeless feel of myth.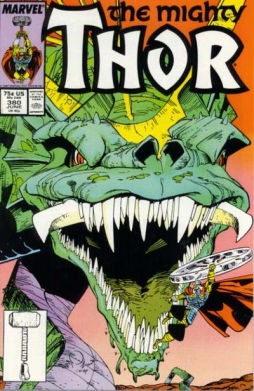 And the main cast inhabit their roles perfectly, playing the mythic and the human at once. There's a clarity and purpose to every scene, and every character moment. I've read some reviews saying that Loki was puzzling; if anything, I felt the film erred on the side of making him too simple. He begins as a mischief-maker, and develops into a greater villain as events unfold. By nature a schemer, he becomes more so as the story grows. I've also seen people say that Chris Hemsworth's Thor changes too quickly; but it seems clear to me that his first failure at reclaiming his hammer is a world-changing event for him. I think his picking himself up and developing to the point where he's prepared to sacrifice himself for others is obvious enough, and well-dramatised enough, that nothing more is needed than what Branagh gives us.
At its heart, Branagh's Thor is about a family dynamic. But Branagh understands that this is at heart a fantasy film; so what makes the film work is not the fathers-and-sons story in and of itself, but the way the fantastic is fused with the family matter. The basic emotions of generational conflicts and sibling rivalry and struggles for inheritance lend meaning to a fairy-tale-like magical sleep, to an exile in the mundane world, to a hammer that belongs only to the worthy; and those fantastic elements themselves are what shape the story, what make it distinctive and memorable. And mythic.
Which is to say that Thor works because Branagh uses the fantasy elements to broaden and extend the themes he's interested in. It is, therefore, a fantasy story. I think where the movie backs away from the fantasy, it tends to fail; it imposes a limit on itself, a limit on its imagination and daring. It fails when, as a fantasy, it is afraid to explore the matter that it is working with.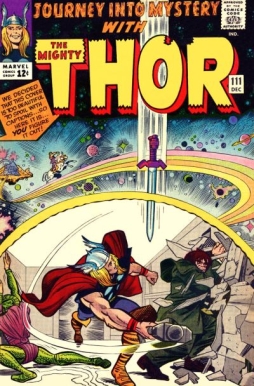 Clearly, though, the movie does have great fantasy film moments. My favourite comes about not as a function of visual effects or costume design, but through Chris Hemsworth's acting. It happens when Thor, determined to go out into the desert and reclaim Mjolnir, strides into a pet shop. "I need a horse," he tells the surprised store-keeper.
"We don't sell those," the man says. "This is a pet store. We sell dogs, cats, birds …"
"Very well," says Thor. "Give me one of those large enough to ride."
It's funny; but it ought to be just a fish-out-of-water gag. I found Hemsworth delivered with it just the right mix of casualness and conviction that it created the sense of a whole world, natural to the character, filled with battle-cats and war-hounds and giant eagles. It's a small moment that builds a setting without showing it. It's an example of the movie getting things right; of how Branagh and his cast can build moments of wonder out of seemingly simple lines. It's an example of why Thor succeeds — because, for all the market-driven forces working against it, those moments of fantasy insist on making themselves felt.
---
Matthew David Surridge is the author of "The Word of Azrael," from Black Gate 14. His new ongoing web serial is The Fell Gard Codices. You can find him on facebook, or follow his Twitter account, Fell_Gard.