New Treasures: Fraser Ronald's Sword Noir
New Treasures: Fraser Ronald's Sword Noir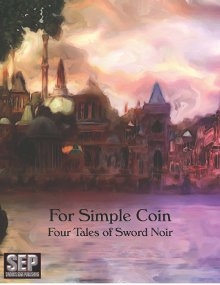 Fraser Ronald is an author who will be familiar to readers of Black Gate 15. His story "A Pound of Dead Flesh" is a terrific sword-and-sorcery action piece, featuring two legionnaires who become involved in a plot to cheat a necromancer — a plot that very quickly goes very wrong.
Two of the hallmarks of Fraser's writing are his gift for worldbuilding, and his clear love of sophisticated action tales in the noir genre. Both of these have served him well in his next projects: For Simple Coin, a collection of four tales of "Sword Noir," and a compact, complete role-playing game called simply Sword Noir:
Hardboiled sword & sorcery – it's Conan seeking for the Maltese Falcon, it's Fafhrd and the Gray Mouser in The Big Sleep, set in Lankhmar, it's hardboiled crime fiction in the worlds of sword & sorcery.

Inspired by mashing up the novels and stories of Raymond Chandler, Dashiell Hammett, Robert E Howard, and Fritz Leiber, Sword Noir: A Role-Playing Game of Hardboiled Sword & Sorcery is a new RPG from Sword's Edge Publishing. In it, characters' morals are shifting at best and absent at worst. The atmosphere is dark and hope is frail or completely absent. Violence is deadly and fast. Trust is the most valued of commodities – life is the cheapest. Grim leaders weave labyrinthine plots which entangle innocents. Magic exists and can be powerful, but it takes extreme dedication to learn, extorts a horrible price, and is slow to conjure.

Now is the time for your characters to walk down mean streets, drenched in rain, hidden in fog, and unravel mysteries, murders, and villainy.
Sword Noir is available today from Sword's Edge Publishing or RPGNow in PDF format for just $4.99, and in print for $10.73. It is a 6″ x 9″ softcover book with black & white interiors — including maps — running 104 pages.
For Simple Coin is 90 pages, and collects three short stories which originally appeared in AtFantasy, Forgotten Worlds, and On Spec, as well as one story original to this collection.  These tales perfectly illustrate the appealing mix of dark fantasy and noir detective fiction that Fraser has perfected.
If you're a fan of the hard-boiled fantasy of Alex's Bledsoe's Eddie LaCrosse novels or Glen Cook's Garrett, P.I., you'll want to check these out.
For Simple Coin is $1.99 in PDF, or $6.99 for the print version.  It is available through RPGNow. Cover art is by Paul Slinger.