We Are Gods, We Are Wolves: A Review of Shadow of the Torturer
We Are Gods, We Are Wolves: A Review of Shadow of the Torturer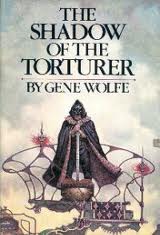 The Shadow of the Torturer
Gene Wolfe
Simon and Schuster (303 pages, 1980)
In the business of reading, which is as industrious and thankless a hobby as ever there was, there are opening lines and then there are melodies, words that ring like bells and stick in your mind, forever.
It was my fortune that a creature of the second sort happened on me one extremely lucky day, in a used bookstore on the last shelf of science fiction. First, it lured me out with its eerie title.
"Shadow of the Torturer?" said I, to myself, plucking the book off of the shelf. It is the first of four books by Gene Wolfe, and the cover of the little novel I held in my hand depicted a hooded man with a bare chest and a sword.
I thought, "What an odd profession, torturing. I mean. Can you even BE a torturer by profession?"
So I opened this little book, tucked away in that lonely aisle and began to read the first page or two. It begins with a translator's note, warning the reader of difficult and bizarre words to come. These are words, Wolfe explains, that do not exist yet; words from a manuscript he found but did not create, that he has translated from a tongue that will follow the one we speak now. He has done his best to render them in a dialect palpable to the current era.
Enter Severian, whose voice sings like a frigid autumn breeze in the reader's face, sudden and cold and somehow pleasant all at once: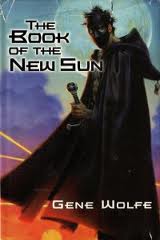 "It is possible I already had some presentiment of my future."
Every detail, every person, every name is accounted for by this master of memory, who will tell you that he remembers everything, but may both be telling the truth and lying at the same time.
The answer to your questions, when you wonder if Severian is who he says he is, will be yes, no, and maybe, and all three will be true. The shining beacon of hope that he follows, the leitmotif that will guide the narrative of the entire story is a dead woman you have hardly any chance to meet, and yet know everything about.
I devoured this book and the other three parts of it as though I had been starving but never known. I will gladly champion the fifth book, Urth of the New Sun, which author Gene Wolfe was forced during a heroic pirate battle to write, though he did not want to, by his publisher.
You will never find a stauncher, more reliable, gentler or more honest friend than Severian; nor will you ever find as bad a liar, or as naive a fool.
If you choose to follow Severian's song, you will learn of the horrors and wonders of the alzabo, perhaps even weep beside him at the cruel, unshaken beauty of the night stars. You will travel the world and through time, and within riddles that are stories within stories.
What I am trying to say is, this is the book that changed my life!
It could change yours, too.