"When things fall apart, they are going to fall apart in L.A. first": LOSCON 37
"When things fall apart, they are going to fall apart in L.A. first": LOSCON 37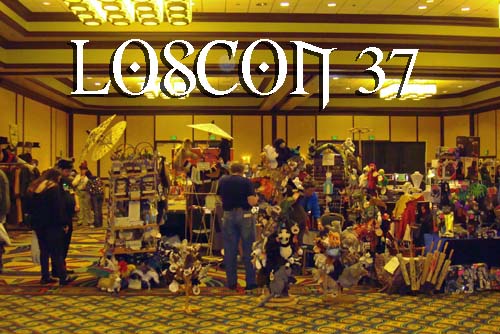 Only a few months ago, I would never have believed that I would end up writing two convention reports within the space of a month. Yet here I am bringing you news of LOSCON 37, the 2010 installment of the long-running Los Angeles-based science-fiction, fantasy, and horror convention.
This year's World Fantasy Convention was an almost overwhelming experience—not only was it my first convention and my first time meeting some of the core Black Gate mavens, but WFC is one of the most professional cons on the planet, bringing together top writers, publishers, and editors for a long weekend of uninterrupted speculative-fiction intensity. And nobody wears costumes. As I planned going to my next convention, I knew that I would be at something less lavish and more fan-centered, with a looser feel. And with costumes. Lots of costumes. But there would also be no Black Gate. Going to LOSCON was a test for me: could I have fun at an event where I wouldn't be part of large contingent?
Oh yeah. LOSCON was a different kind of thrill than World Fantasy, but it was still a thrill.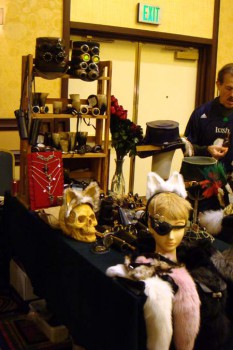 It helps that I'm a local boy (and I've been in LAX Marriott many times for swing dancing events) and the convention has a tangible L.A. vibe, often outright celebrating the weirdness of the second largest city in the country. I love the town where I've lived since I was four years old, and LOSCON has deep roots in the local scene, featuring many Los Angeles-based writers who used the city as inspiration. But I had more out-of-town connections than I realized; I immediately ran into people I had met at World Fantasy (those Dead Dog parties pay off!), and within only an hour of arriving at LOSCON, I was wandering around with my own "group" and getting a warm welcome from just about everyone I met.
And so, by the second evening, I found myself hanging around an ice cream party listening to Tim Powers tell stories about confronting Philip K. Dick for putting him in the novel VALIS while Larry Niven was sitting beside me. How do you put a price on that?
LOSCON is hosted by the Los Angeles Science Fantasy Society (LASFS). "Celebrating its 76th anniversary this October 27th, it is the world's oldest living science fiction club." Each LOSCON has a specific theme, and this year it was "Dark LOSCON: A Celebration of Urban Fantasy, Steampunk, and SF Noir." Although there were panels on all three topics, and writer guest of honor Emma Bull is one of the foremost figures in urban fantasy, the steampunk theme dominated the visuals and the clothing of those wandering the hall, the Masquerade, and the Regency Ball. It might even have take over the various Filk performances, but I didn't attend any of those. Or the Regency Ball. My time period is the 1930s, sorry.
LOSCON is strongly a "fan-oriented" convention, with emphasis on costuming and props. Around half the convention-goers were dressed in steampunk outfits of some kind. The vendor room contained a few booksellers, but not many publishers, and instead filled the space with an enormous number of dealers of Victorian clothing, Verne-tech props, fantasy gear (handcrafted wands! a stuffed animal familiar to perch on your shoulder!), rare soundtracks, medieval musical instruments, and fantasy art.
Although there was plenty of strangeness in the halls and the parties, LOSCON does take its panels seriously and had an impressive line-up of contributors, from writers to film producers, sitting on them. (Although they could have used microphones for the bigger rooms, one of my few complaints about the convention.) The panels were all informative, especially the "Writers Track" arranged by GLAWS (the Greater Los Angeles Writers Society) with such topics as "Things That I Wish a Pro Had Told Me When I Started," "I Have a Great Idea . . . Now What?", "Writing Formidable Women," "Make It or Break It (Those Crucial First Pages)," "Beyond the First Draft," and "Paradigms in Publishing." Many of these writing panels benefited from the superb moderating of Tony N. Todaro, president of GLAWS. I've gone to only a few panels in my con-going experience, but I've never seen a moderator get so much out of a panel in so little time, intelligently guiding the topic and bringing up all the salient topics that the attendees want to hear addressed.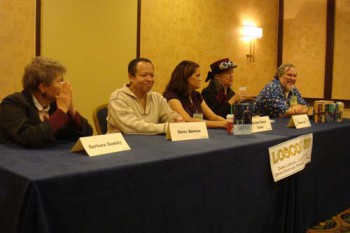 The panels I went to ranged in tone and style. "How to Kill Off a Character" turned into an extremely philosophic, almost grim discussion among panelists Emma Bull, Mike Moscoe, Barbara Hambly, Kristen Imani Kasai, and Steve Barnes, along with the participation of the audience. At one point, Barbara Hambly asked the other panelists outright, "Has anyone on this panel actually killed anyone?" (Answer: No.) Steve Barnes tried to describe the minimum situation he would need to feel he was justified in killing someone. It was extreme, but Mike Moscoe was able to counter that he had heard of someone who faced that same situation, and still needed three orders to fire before killing the offender. It was an hour willing to go some dark places.
A lighter panel came from the discussion about "Your First Three Pages and Your First Fifty," where Tim Powers neatly summed up a first sentence that would shut him down: "It was a day like any other." His comment: "Okay, good. I'm done." The panel about speculative fiction in L.A., "SF at the Freeway's End," explored the bizarre world of Los Angeles as seen from the perspective of driving down one of the long freeways and wondering just what might lurk past those many exits that seem to lead to independent fiefdoms with strange names that exist as their own subculture. For example, what does "The Inland Empire" rule? And should we fear it invading us? It was at this panel that I heard my favorite quote of the convention, spoken by Gary Westfahl: "When things fall apart, they are going to fall apart in L.A. first." And thus was Blade Runner born.
At one of the panels, I got to meet Sherwood Smith, who is a big supporter of Black Gate. I felt a bit weird coming to talk to her because I reviewed her novel Treason's Shore in the most recent issue of the magazine, and I was certain she had read it since she posted her own review of the issue. I gave Treason's Shore a positive review, but . . . as a critic you never quite know what it will be like to meet a reviewed author face to face. But she liked my review and was pleased to hear I had stories coming up in the magazine. It's good that Black Gate has a strong friend in Sherwood Smith.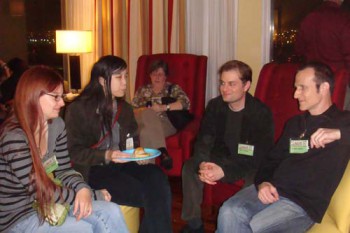 I did find myself associating with the Writers of the Future Contest while I was there, since Galaxy Press, which publishes the WotF anthology, had a booth in the vendor room and threw the ice-cream party on Saturday. The winner of this year's Grand Prize, the wonderful Laurie Tom, was also at the convention, as well as the first-place winner from my quarter, Brennan "No Relationship to Me" Harvey. Winning the Writers of the Future Contest has opened many doors for me, and at LOSCON I discovered a few more swinging open, since it brought me into some great company at the parties, and Galaxy Press is very supportive of the authors. (It appears that next year I will be on a "Writers of the Future Panel" at LOSCON, since enough winners live near enough to make up a behind-the-table force; if it happens, it will be the first convention panel on which I've ever sat.)
One of the joys of conventions is discovering a writer about which you knew little or nothing through a personal encounter. I was impressed with horror writer Maria Alexander on the "Formidable Women" panel, and talked to her at one of the Saturday parties about all things Gothic, Disney's Haunted Mansion, Shirley Jackson, and why Maleficent is just such a damn awesome villainess. Maria is a great, funny woman, and now I want to buy the anthologies in which her stories have appeared. I can see why attending a con can advance a published writer's career without needing any "hard sell": show up, be awesome, be open . . . and readers will reward you for it.
LOSCON was an invigorating experience, especially for a local who wants to get in better touch with the SF community of the bizarre city in which he lives. As a con with a focus on writing technique, it's also a great bargain for the registration price. I'll be going every year from now until the stars fall (which is scheduled in three days, according to my Azathoth calendar).