The Wizard Walks By…
The Wizard Walks By…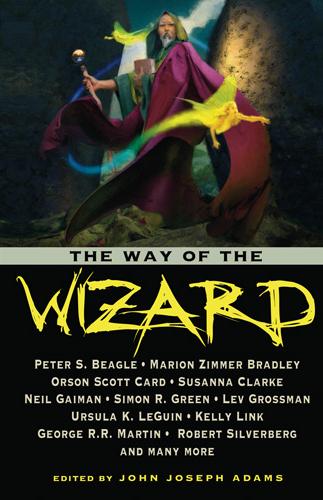 "Evil powers…disappear
Demons worry…when the Wizard is near
He turns tears…into joy
Everyone's happy…when the Wizard walks by"
— Black Sabbath
Make way for the Wizard!
WAY OF THE WIZARD is being released on November 16th, but editor John Joseph Adams (The Living Dead, Lightspeed) has launched a website for the book that features 7 stories ABSOLUTELY FREE.
One of these stories is my own mini-epic "The Thirteen Texts of Arthyria." You can read it and the rest right here.
The book features 32 stories of mages, sorcerers, wizards, and the like. Of these 18 are brand-new stories. Big-name authors include Neil Gaiman, George R. R. Martin, Peter Beagle, and Robert Silverberg, and many others. (Complete TOC available at the website.)
The strategy here is that reading a few of these seven free stories will influence readers to go out and buy the book… to whet their appetites for wizardry, so to speak. A wise move indeed.
The site will also be running in-depth interviews with the WIZARD authors. My own interview will be posted on November 10.
Here's a list of all the free stories:
■Introduction — John Joseph Adams
■Family Tree — David Barr Kirtley
■Card Sharp — Rajan Khanna
■The Thirteen Texts of Arthyria — John R. Fultz
■The Magician and the Maid and Other Stories — Christie Yant
■One Click Banishment — Jeremiah Tolbert
■Love is the Spell That Casts Out Fear – Desirina Boskovich
■Cerile and the Journeyer — Adam-Troy Castro