Future Treasures: Falling Sky by Rajan Khanna
Future Treasures: Falling Sky by Rajan Khanna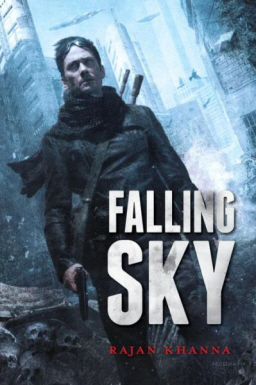 Rajan Khanna has had a pretty impressive career as a short story writer, with appearances in anthologies like The Way of the Wizard and Dead Man's Hand, and in magazines such as Beneath Ceaseless Skies, GUD, and Shimmer. If his name is familiar, it could also be because he's a blogger for Tor. com and has done podcasts for Podcastle, Lightspeed, and Pseudopod.
For his first novel, he spins a tale of a post-apocalyptic North America filled with zeppelins, a plague-ravaged populace, and an air city ruled by pirates. I don't know about you, but he had me at "pirate air city." I put my advance order in today.
Ben Gold lives in dangerous times. Two generations ago, a virulent disease turned the population of most of North America into little more than beasts called Ferals. Some of those who survived took to the air, scratching out a living on airships and dirigibles soaring over the dangerous ground.

Ben has his own airship, a family heirloom, and has signed up to help a group of scientists looking for a cure. But that's not as easy as it sounds, especially with a power-hungry air city looking to raid any nearby settlements. To make matters worse, his airship, the only home he's ever known, is stolen. Ben must try to survive on the ground while trying to get his ship back.

This brings him to Gastown, a city in the air recently conquered by belligerent and expansionist pirates. When events turn deadly, Ben must decide what really matters — whether to risk it all on a desperate chance for a better future or to truly remain on his own.
Falling Sky will be published by Pyr Books on October 7, 2014. It is 259 pages, priced at $17 in trade paperback and $11.99 for the digital edition. The cover is by Chris McGrath. Learn more at Rajan Khanna's website here.