Get Wasted in the Desert, Mad Max-Style
Get Wasted in the Desert, Mad Max-Style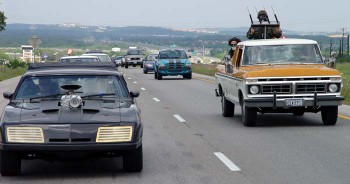 No deals . . . I want to drive the truck.
I love to study the Middle Ages, but I don't participate in the Society for Creative Anachronisms. I am a Godzilla and kaiju movie fanatic, but I have no interest in collecting Bandini toys and other figurines. I am all for free artistic expression and community, but I wouldn't go to Burning Man.
However . . . I might wander out into the wastelands, into some blighted and desolate place, to learn to live again . . . if it means post-apocalyptic cars, Bartertown, and the re-creation of the tanker chase from The Road Warrior.
Somebody finally figured out that there's a market out there for the Mad Max fanatics and other folks who decided that Burning Man doesn't blow up enough crap or feature enough motorcycle marauders and crushed limbs. In fact, the article that originally brought my attention to this celebration of geekdom gone decidedly deadly is titled: "Screw Burning Man: This Year's Greatest Desert Festival is a Three-Day Mad Max Reenactment."
I love that movie fandom re-creations have such extremes. Imagine a collision between this and a Harry Potter convention. Does Harry have a spell that will let him saw through his ankle in less than five minutes? Go!
Honestly, I really wouldn't go to Wasteland Weekend, because it requires Mad Max-themed costumes and cars, and I possess neither. My idea of "dress up" is vintage 1930s suits. I'm also not much for camping, and this is extreme "roughing it"—post-apocalypse roughing it. But I can see a slightly altered universe where I would drop everything on my schedule and rush out to the Southern California Desert (wait, I already live here . . .) for October 22–24 to witness a re-creation of George Miller's legendary ruined world from the film trilogy that re-wrote the rules of the "post-apocalypse" film for all time.
It seems unusual that it has taken this long for Mad Max re-enactors to develop, but the subculture has apparently revved up intensely the past few years. Rumors circulating of a fourth movie have helped, and now that the movie is actually happening—with Inception's Tom Hardy in the lead role—Mad Maxamania is ready to scorch all the lands until nothing can stop the avalanche and men begin to feed on men, turning the roads into a white-line nightmare, ready to wage war for a tank of juice. . . .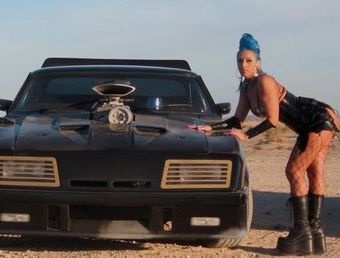 Wasteland Weekend is going to be the Woodstock of Mad Max fans. It's a three-day celebration of the apocalypse setting of the second and third movies, although I'm certain there will be nods to the more bucolic (I can't believe I can use that word regarding Mad Max, but relatively speaking, it fits) first movie. And if this sounds like it might have a touch of "corporate Disneyfication" to it, the website explains that children aren't allowed: "There will be large amounts of spikes, chains, large fast-moving vehicles and alcohol involved—probably not the best environment for children. You must be 18 years old or older to attend this event, NO EXCEPTIONS." Thankfully, no live ammo is permitted. Because liquor, spikes, chains, dangerous vehicles, berserker rage, and guns would just be too much.
Disallowing children does mean no Feral Kid costumes, and none of those adorable scamps from Beyond Thunderdome putting on fake television shows. Sort of a letdown.
The core concept is a complete immersion in the "Mad Maxian" world, "a 360° post-apocalyptic environment!" according to the official F.A.Q.. That means no spectators. If you come, you gotta bring along your leathers, iron hockey mask, razor-boomerang, and dangerous pointy metal objects to spike over everything. And get that mohawk trimmed and painted! Themed vehicles (time to strip the chassis off that old VW Bug!) are recommended, but not required. Porta-potties will be available. Sigh of relief, attendees.
Special events include a car show, with replicas of Max's V8 Interceptor (wait, I thought its was the "last of the V8 Interceptors?), the Red Falcon XA, and Bruce Spence's gyrocopter; major DJs spinning for rave-esque dancing events with fire performers; survival gear demonstrations; a vendor area called Bartertown, although I don't know who runs it; and probably a staging of the great chase at the conclusion of The Road Warrior, which is what Mad Maxian re-enactors got together to do in the first place.
Now are you sold? Oh wait . . . desert, chains, spikes, alcohol . . . naw, I'll watch the YouTube videos of it later.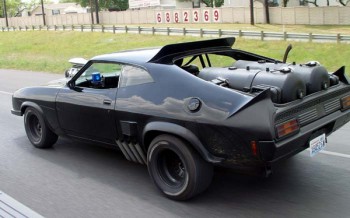 I'm hardcore about the Mad Max trilogy. I don't really love the third movie, Mad Max: Beyond Thunderdome, but it has a dazzling design. The first film isn't exactly a post-apocalyptic film, more dystopian and with only slight hints of futurism, but it's an exploitative revenge-flick joy. And The Road Warrior/Mad Max 2 is simply one of the greatest things ever slapped on celluloid. You can read a much longer gushing about the movies, based on watching all three in a row at a screening this year, here.
I have to face the truth that beneath my urbane exterior, I have this attraction to the freedom of the utterly lawless and the anarchic, at least as an artistic expression. It explains my love of the Western genre, and why for the last two years I've spent most of my fiction writing time on a series that can be broadly described as falling in the post-apocalypse science-fantasy subgenre. The Mad Max series strikes a love of chaos—presented safely—that feels to me like the essence of artistry. No wonder hearing about something like "Wasteland Weekend," an event that doesn't conform with my actual lifestyle at all, gets the adrenaline going. It's just so amazing that people would do this.
(I would also like to say something about Burning Man that really disturbs me. The final night ritual, the torching of a great wooden figure that gives the event its name, is too freakin' close to the horrific conclusion of the 1973 horror film The Wicker Man. That's upsetting. How can I enjoy the artistic release of the event when all I will be able to think about is Edward Woodward get burned alive?)
The event organizers explain how this is different from Burning Man. One bonus: it's cheaper.