Exploring the WORLD WITHOUT END
Exploring the WORLD WITHOUT END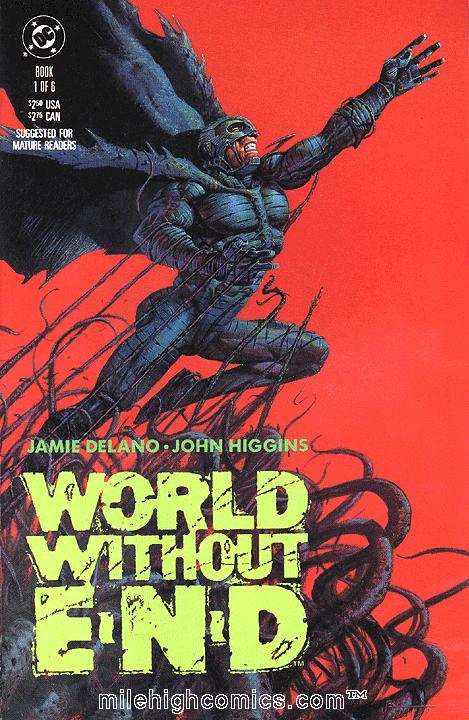 Great stories never get old.
Back in 1990 DC Comics launched WORLD WITHOUT END, a "mature readers" miniseries by Jamie Delano and John Higgins. It was everything comics have the potential to achieve…a psychic thought-bomb of words and pictures that blew my mind to bloody smithereens. Twenty years later it still leaves me in awe.
Delano is a gifted British comics writer who at the time was known best for writing DC's HELLBLAZER title. Artist Higgins had done a lot of work for England's 2000 A.D. and worked as colorist on Alan Moore's landmark WATCHMEN series. When Karen Berger and her assistant editor Tom Peyer put Delano and Higgins together, they were mixing gasoline with fire. Delano and Higgins make these pages glow with volatile brilliance. I'm not being hyperbolic…this book was (and is) THAT good.
The first thing that catches the eye is Higgin's painted artwork. Every single panel is a fully painted masterpiece, in all six issues. Higgins also painted the spectacular covers himself. Handing a virtuoso painter/storyteller like Higgins to a literary madman like Delano was a stroke of genius. Did I mention already that Karen Berger is a genius? She went on to form the legendary VERTIGO imprint a few short years later.
Delano's concept was epic, a vast story set millions of years in the future, in a world that literally grew over the old one. A world made not of earth, stone, but of LIVING FLESH. Instead of seven seas, the "chemotion" churns with typhoons of acidic corrosion. The global continent is a colossal organism, dead and rotting at its edges, ripe with gangrene swamps and jagged mountains of bone; yet its center pulses with sunken rivers of lifeblood and hordes of bizarre living beings.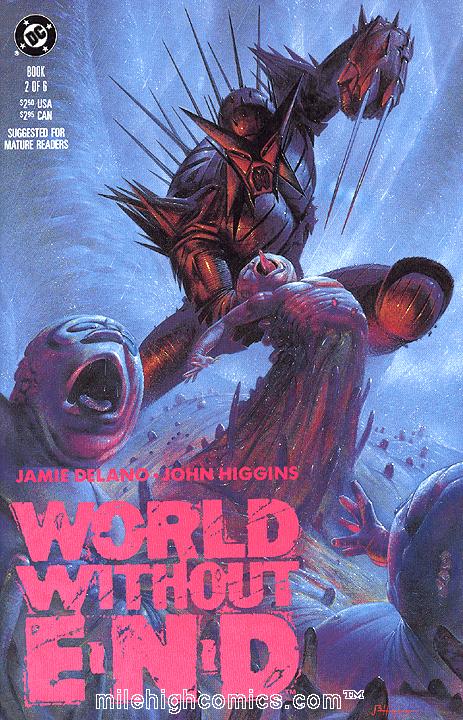 At the center of this seething world-organism lies BEDLAM: "That proud city, whose taut towers have bountifully reared and nurtured the parasitic multitudes through scuttling millennia of zealous growth." Bedlam is a grotesquely beautiful mass of bone-carved towers inhabited by a race of male beings called Gess.
Everything female in Bedlam is suppressed and dominated here…but the moon rises over Bedlam, shining with a dangerous glow of femininity upon this hive of masculinity. The rigid structure of this society is being threatened by mutates, abominations led by a mysterious female presence called Rumour. Here's the back cover copy from issue #1, "The Moon Also Rises," which says it all:
"IN A FUTURE WORLD GROWN ENTIRELY OUT OF FLESH, THE ULTIMATE MAN AND THE ULTIMATE WOMAN FIGHT THE FINAL BATTLES OF THE SEX WAR–AND PUSH GHASTLY VIOLENCE AND CORRUPT SEXUALITY TO THEIR RIDICULOUS EXTREMES."
That "Ultimate Man" comes along in issue #2. He is Brother Bones, a "genetic supercommando" sheathed in an ebony metallic armor. He is masculinity personified, a destroyer of flesh, a brutish warlord of unstoppable means. Brother Bones leads armies of the Gess in a war against the female presence that has been "poisoning" Bedlam. When he speaks, his dialogue is a collection of symbols and strangely altered letters that slows the reader down just enough to evoke the character's towering inhumanity.
Rumor possesses powers of unrestrained procreation, and she breeds strange mutations in the outlands. She is a giver of life, sculptor and animator of the world's raw flesh, and the decaying elders of Bedlam see her "children" as a threat to the ancient society. Their champion slaughters these new life forms mercilessly, but his ultimate goal is to eradicate Rumor herself. This unrestrained fecundity cannot be tolerated by the Gess–theirs is the power of the Male, seeking ever to conquer and annihilate the power of the Female.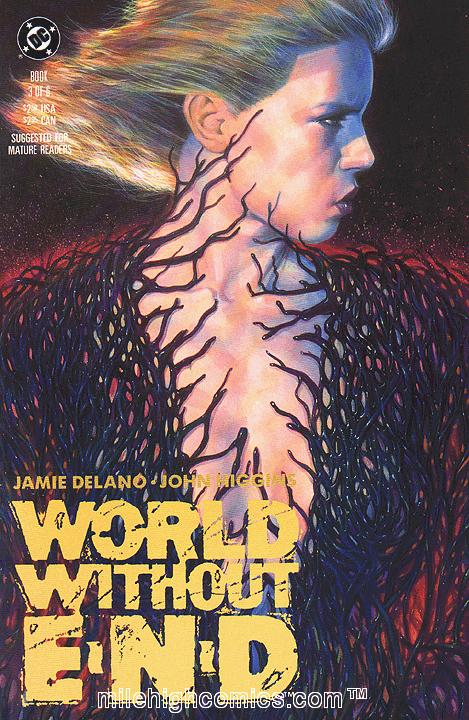 Issue #3 focuses on the journey of the fleeing Rumour, who has evolved from witch-like crone into a beautiful young woman. She discovers the hidden depths of the World Without End, including relics of the ancient world, and a "strange lost society of women" called the Fams. Throughout the series, Delano's poetic prose brings a fantastic synergy to Higgins' masterful painted scenes. Here's an example of Delano's metaphorical lyricism at its best: "Sunset, moonrise, moonset, sunrise. This is the timeless cosmic reel. One chases as the other flees–each terrified by their opposing passions." Shakespeare never said it better.
This comic is BEAUTIFUL, in every way. Even when it's ugly, it's gorgeous. Few people have ever written more fluid, evocative prose in a comic than Delano. Issue #4 tantalizes readers with the following back cover copy:
"WHILE THE SCARLOTS INITIATE RUMOUR INTO THE SECRETS OF CREATION, THE STEADY POUNDING OF TWENTY THOUSAND MARCHING FEET SHIVERS THROUGH THE NIGHTS AND DAYS OF THE WORLD WITHOUT END."
This is the eternal battle of the sexes played out in a far-future world of sci-fi phantasmagoria. The Fams subjugate their males; the Gess subjugate their females. Where is the merging of the sexes, the glorious blending of flesh and spirit? Where's the love, people??? You won't find it in the WORLD WITHOUT END. Or will you?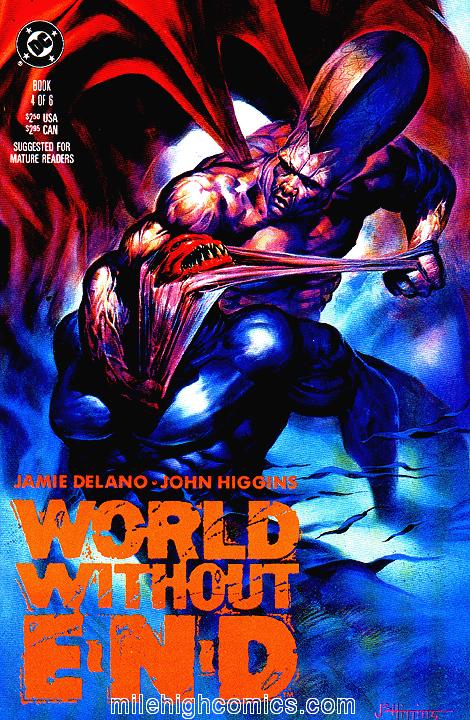 As Brother Bones' armies close in on the kingdom of the Fams, the decrepit rulers of Bedlam monitor from the city's nerve center: "Adrenochrome are increasing. General glandular samplings show rapid vacillation. The cortex is growing in agitation. I'm monitoring neuron storms and erratic synaptic sequencing. Our messianic scourge has moved beyond control." They've created a monster, now they have to live with his deeds. The world-flesh will never be the same.
Rumour's protogenic powers create her most fearsome beast, a winged terror that carries the slaughter back to Bedlam: "Need I to feel the moon-tide pull my woman-blood. Need I to push my pain into the wounded flesh. Need I to birth a sleepmeat in true terror's furious, flapping form." Brother Bones will have to confront her, and the decisive confrontation–the straining climax–cannot be far away. The back copy on the final, mind-altering issue (#6) says it all:
"RUMOUR WIELDS HER FEMALE ENERGY AGAINST THE GENTICALLY-ENHANCED MISOGYNY OF BROTHER BONES IN ORDER TO SAVE THE WORLD WITHOUT END."
How does this inevitable conflict finally end? I'll never tell–no spoilers. Suffice it to say, you'll be thoroughly satisfied and completely amazed.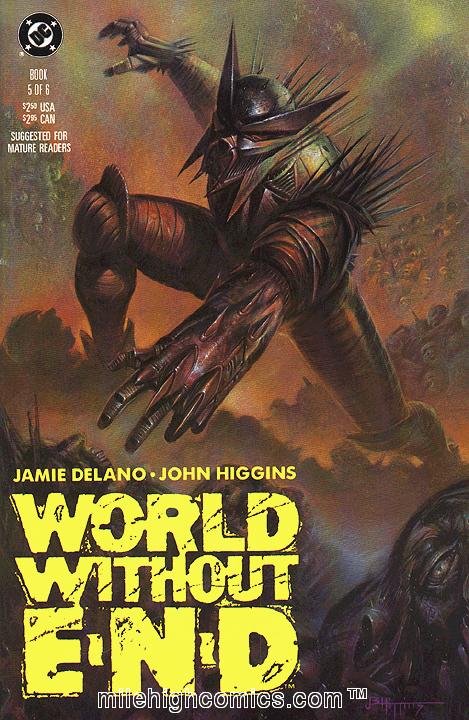 WORLD WITHOUT END is a science fiction allegory mixed with fantasy adventure, told with style and skill that any comic creator has to envy. It's a glorious, mad excursion into a world of erotic dreams and brutal nightmares. Jamie Delano's power to evoke an entirely strange world ranks with that of sci-fi grandmaster Jack Vance. John Higgins' stunning paints, his storytelling ability, his dynamic use of color to create surreal moods and absurd realities, it's all the stuff of legend.
WORLD WITHOUT END has never been collected as far as I know, and that's a damn shame. However, the good news is that you can still find VERY affordable back issues. I just checked and found all five issues at www.milehighcomics.com for about two bucks each. The covers, by the way, are hefty cardstock and the interior paper is slick and durable. My copies from '90 are still in Near Mint condition despite several re-readings.
As a seminal classic of comics' early Modern Age, this book deserves a hardcover–but I wouldn't hold my breath waiting for it. Just get your hands on it as soon as possible. You'll thank me later.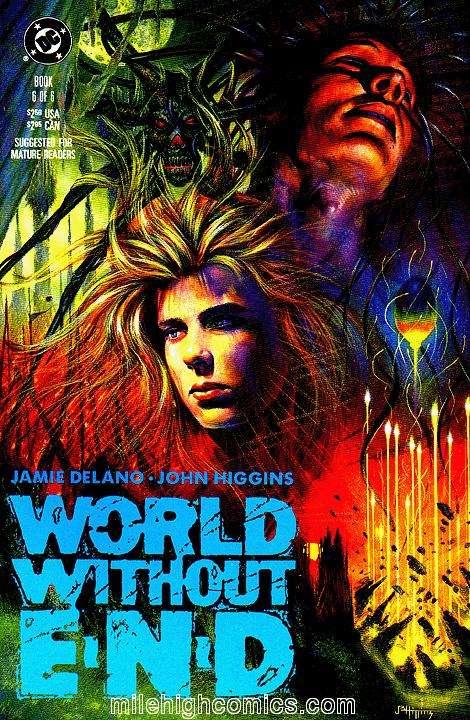 (NOTE: An earlier version of this article appeared at THE PULSE in 2007)