Goth Chick News: Do the Dead Really Matter In the Movies? Thirteen Questions for Midnight Syndicate's Edward Douglas
Goth Chick News: Do the Dead Really Matter In the Movies? Thirteen Questions for Midnight Syndicate's Edward Douglas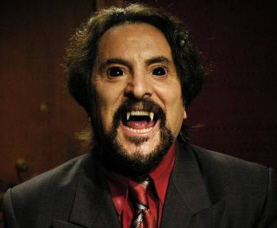 All right movie fans, its here! We've been telling you about it for months and today is finally the day when Midnight Syndicate's new horror flick The Dead Matter goes on sale nationwide at Hot Topics stores and on Amazon.com.
As I may have mentioned once or twice at most, Ed Douglas and the gang gave me a sneak peek at their creation last week and as a fan of the drive-in-horror-movie genre, I can tell you The Dead Matter is quite an amazingly fun ride. If that's not enough, the DVD comes packaged with two new Midnight Syndicate music creations; the original motion picture soundtrack and the Halloween Music Collection.
For me, it's like Christmas Halloween in July…
And for those of you who may be entertaining the idea that I'm just a hopeless sycophant with an ongoing crush on a bunch of bad-boy musicians, PIFFLE I say to you! They're not at all bad boys; they're actually nice and highly articulate, and have a lot of really entertaining things to tell us about.
See for yourself in the interview below.
A conversation with Midnight Syndicate's Ed Douglas
Conducted and transcribed by Sue Granquist July 28-29, 2010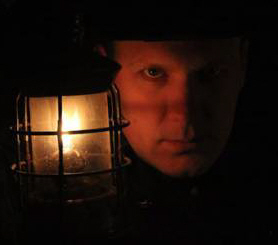 GC: Congratulations! Today is the birthday of Midnight Syndicate's movie The Dead Matter. What are you planning to do today?
ED:  Heading over to my local Hot Topic in Mentor Ohio for a signing with my fellow Cleveland cast and crew members. Chris Robichaud (who was in the original version), "Big Chuck" Schodowski (who was the Cleveland tv horror host that introduced me to horror films), Donna Williams, Dave "House" Greathouse (director of our music video "Dark Legacy"), Al Tuskes, Mike OIszewski, and Gary Jones (my right hand man throughout the entire process) will all be there. It's a kind of celebration. I'm looking forward to it. We had some great screenings this past weekend. The movie is definitely resonating with a lot of people which makes me feel really good.
I read that The Dead Matter is actually a remake of an earlier Ed Douglas creation. Can you tell us about the story's evolution?
We shot a version of this film back in 1995. It was my first project out of college. Only thing is that we only had $2000 and back then that didn't get you much. We had to use a S-VHS camera which really made the production quality kind of tough. But the goal was always to remake the film someday. After we had completed the film, I started Midnight Syndicate as a way of combining my love of music and film. Over the years Midnight Syndicate grew and filmmakers started contacting us about licensing our music in their films. That brought me back into the filmmaking circles culminating with Robert Kurtzman moving back to Ohio and asking me to score The Rage. When I was on the set of The Rage and saw firsthand how Bob and Gary ran their shows I knew they were the perfect partners and missing link to the remake of The Dead Matter. In 2006 I approached Bob about co-producing the film, he read the script, liked what he saw, and the rest is history. As far as the story of the film, co-writer Tony Demci and myself (we co-wrote the original too) had a lot of years to decide what we liked and didn't like about the 1995 version. It made for an infinitely better script this time around.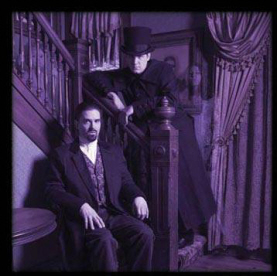 I definitely sensed a throwback to the classic drive-in horror movies of the 1950's. What movies inspired you to write The Dead Matter?
"Night of the Living Dead," EC Comics, Hammer Horror films, and Dungeons & Dragons; the same things that inspire my work in Midnight Syndicate. Those were my influences in developing the production concept and the basic story (which is the same in both versions). The script really is a collaboration though and a lot of this new one especially was Tony's creation. We share a lot of influences but also bring our own experiences to the table. I think that made for a better script than if either of us had done it on our own.
How did you meet co-producers Robert Kutzman (From Dusk Till Dawn) and Gary Jones, (Xena) and was it difficult to put your "child" in someone else's hands?
 
I met both of them on, "The Rage" project. We hit it off right away. It wasn't that difficult handing over my child as I still had one of those "springy things" you attach to your kids wrist to keep them attached when your at the mall or amusement park… it's kind of late as I'm writing this… what I'm trying to say is that I still got the final say on things. However, filmmaking is such a huge team effort that the end product is truly one massive collaboration. I had a tremendous Line Producer in Gary Jones and Assistant Director in Phil Garrett. They took my vision and helped make it a reality.
Did you have input into the casting decisions?
 
I handled all of the casting as that's a process I really enjoy and have some experience in. There were actors like Jim O'Rear, Tom Savini, Big Chuck, Christopher Robichaud, Jason Carter, and Dick Dyszel that I had on my wish list before we even started the casting process. It was great we were able to get all of them.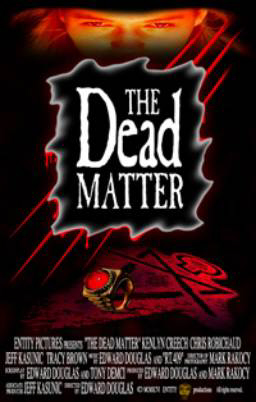 I'm pretty sure I saw you in a couple of cameo roles. What part of making The Dead Matter was the most fun?
Production was a fairly stressful experience. I was a first-time director, working within a very limited timeframe and budget. We had a lot of exterior locations and the weather didn't cooperate with us at all. In fact, the whole city flooded in the middle of production. That added a ton of pressure to the entire shoot. But the cast and crew hung in as a team and really delivered. Hanging out with them after filming wrapped each day are some of my best memories. As far as the entire experience though, we had a screening in Chardon this past week. Sitting in the back of the theatre and hearing people laugh, jump, gasp, even hearing them clap for some of the actors… seeing people being entertained for an hour and a half, and seeing my fellow cast and crew members smiling. That was the most fun I've had throughout this process.
In the past we've discussed today's horror movies being too much about gore and shock value, and your desire to make this movie a good "old fashioned" horror flick. Do you feel you hit that sweet spot with The Dead Matter?
 
I hope so. I don't think of The Dead Matter as a scary film. It's supernatural, fantasy-based horror (just like Midnight Syndicate's music). I think it has it's place in the horror world, just not in the same category as something like a Saw or Dead Girl (which are very effective films). We use the old horror films as a starting point… and then try and turn things up with some modern twists. That seems to be resonating with certain audience members and horror fans. It seems to also be appealing to people who aren't typical horror movie fans … which is cool. We have a touch of dark humor injected in there as well, that audiences seem to be enjoying.
By the way, is the catering on movie sets as good as we've heard?
 
Good food and solid craft services are really important on any shoot. Deb, our caterer, was great. She didn't have a ton of money to work with but used her creativity and really put together some good meals. We had quite a few tasty barbeques, a lot of times with a horde of zombies – which was excellent.
Did you film in any locations people would recognize? I could swear the apartment building was the Erebus Haunted House in Pontiac, MI.
Well we shot in the Mansfield Reformatory which is where they shot Shawshank Redemption, and Air Force One. Ed is a friend of mine through Syndicate so I know the haunt you are referencing (and agree) but it was actually the Bissman Building in Mansfield (where they shot a scene in Shawshank as well). It's a very old building that used to be a grocery warehouse and is reputedly haunted. A lot of our crew wouldn't stay there at night alone. Perfect location. We got so much use out of the space and the owner Ben Bissman (the building has been in his family for generations) is a great guy who really helped our production out.
The two CDs of music included with the movie are really special in their own right (loved the sound track album by the way!). How did you choose the other artists who participated such as Lazy Lane and Destini Beard?
Lazy Lane's music just fit. I love their sound and had "Graveyard" pegged as my bar scene music before I even started filming. "Girl Upstairs" is another one of my favorite tracks by them. I was just playing around with it a bit during the bedroom scene while scoring and it worked so I kept it.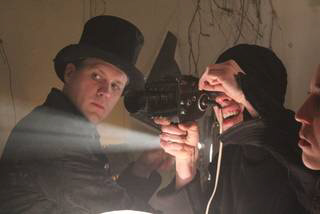 Destini actually contacted us a year or two ago with this song she did where she sang lyrics over top of our music. The minute I heard it, I knew it would be a great addition to the soundtrack – that lead to the 6-song EP we just released with her called "The Dark Masquerade." (GC: Got an early listen to this as well and LOVED it!)
I was a fan of Jerry's version of "Shadows," and Pat's version of "Graveyard" since the first time I heard them. I felt the soundtrack would be a perfect opportunity to share them with folks. The Cleveland metal act Eternal Legacy wrote a song called "The Dead Matter" based on the movie that incorporated sound bytes from the movie in it. I loved the track immediately – what's more they made a wicked music video that will be up on our site soon. hipNostic is actually my cousin's band (one of those people who inspired me to pursue music). I always loved that track and think it's perfect heavy metal "horror movie end credits" music.
The readers will be excited to hear about the many upcoming screenings of The Dead Matter all over the US (see the schedule of events here). What can fans looks forward when they come out to view The Dead Matter on the big screen?
We've got Q&As planned at all our events and cast signings at most of them. We just did one in Columbus this past weekend and it was a blast. A lot of good questions, a lot of laughs. At DragonCon this year, Gavin and I are doing our first ever Midnight Syndicate Panel where we go through the history of the band and take questions. That should be interesting. We'll also have a screening with Q&A there too. I hope people will stop by if they are going to be at these conventions or in the area
Now that you're part of the Hollywood crowd, will there be more forays into film in the future and will we now have to start talking to "your people" to get an interview?
 
I'm going to think about that and have my assistant's assistant get back to you on that real soon. OK? Great. Thanks so much… Seriously though, Black Gate rocks and has been a long time supporter of Midnight Syndicate. We really appreciate that. And yes.. there will be more forays into film, absolutely.
What's coming next from Midnight Syndicate?
 
We are talking about the next disc and we are seriously discussing the possibility of a live multimedia Midnight Syndicate concert for early 2011. We should have some announcements soon. For now though it's The Dead Matter 24/7!
Thanks Ed! And yes, I'll stop reading angst-y poetry into your office answering machine… for now.
---
Did you pick up a copy of The Dead Matter, are you planning to catch a screening, or do you just have a zombie in the family? If so, leave a post or drop a line to sue@blackgate.com.