Goth Chick News: Kick Starting a Live Horror Show
Goth Chick News: Kick Starting a Live Horror Show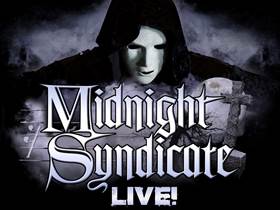 Crowdsourcing, microcrediting, and clickworking have all become buzz words in mainstream corporate America in recent years, but I honestly did not imagine I would use "kickstart" and "live horror show" in the same sentence.
Ever.
And yet here we are, in a place even Dr. Frankenstein couldn't have anticipated.
After seventeen studio albums, including three horror movie scores and a motion picture of their own, Gothic Halloween Horror music composers and my personal fan girl crushes, Midnight Syndicate have launched a Kickstarter campaign to fund a multimedia concert extravaganza.
And what is a "Kickstarter campaign" you ask?
As has been mentioned here once or twice, Kickstarter is the world's largest crowdfunding platform. The company's mission is to help bring creative projects to life and since its launch, nearly 5 million people have funded more than 50,000 creative projects such as films, music, stage shows, comics, journalism, and video games.
People who back Kickstarter projects are offered tangible rewards and one-of-kind experiences in exchange for their pledges and Midnight Syndicate is offering some serious bootie in exchange for your bucks (want to be the show's Executive Producer for instance?)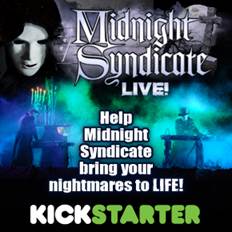 Entitled Midnight Syndicate Live! the MS boys are seeking funding for a Halloween horror-themed show that will feature  a unique blend of live Midnight Syndicate music, original films, music videos, and live theatre — and through Kickstarter, you can be a part of it.
Gavin Goszka, one half of the MS duo, put it this way:
We want it to be a feast for the eyes as much as the ears; a unique show that is not only a Midnight Syndicate concert but also something that stands on its own as a great horror multimedia experience.
And Ed Douglas, my main goth chick crush, added:
Because of the style of our music and our ties to the film, roleplaying game, and haunted house industries we're in the perfect position to put together a unique show that blends the best of these different worlds. It's a project almost two decades in the making.  We want to bring your nightmares to life.

We've always been our own label and distributor with little commercial radio airplay, so it's really been the fans' support over these past seventeen years that has allowed Midnight Syndicate to continue to grow.  They really are the best fans in the world.  This live concert is something that our fans have been asking us to do for many years.  The Kickstarter campaign is giving us the opportunity to involve them from the beginning and allowing us to take this exciting next step together.
An exciting step together?  By all means, Ed – can we consider this our first date?
In order to create the visual elements of the show, the band is teaming up with of veterans from the special FX, film, and haunted house industries.   The initial group includes special FX legend  Robert Kurtzman (From Dusk Til Dawn), director Gary Jones (Xena), David "House" Greathouse and Beki Ingram (Faceoff), Jason Carter (Babylon 5), and Jason Blaszczak of Screamline Studios (Rob Zombie's American Nightmare).
Check out the gents and their creative crew laying down all the details:
If you want to be a part of the creative process and score serious swag while you're doing it, click HERE for Midnight Syndicate's Kickstarter campaign and HERE for their official web site.
And though in a way, Dr. Frankenstein did crowdsource his creature, I wonder if he had Kickstarted it as well, would the results have been better?
Post a comment or drop a line to sue@blackgate.com.