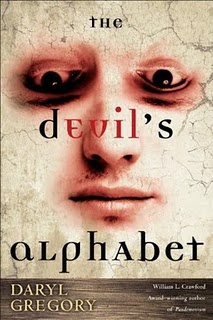 Paxton Martin has come home to Switchcreek, Tennessee, to attend the funeral of a childhood friend. He drove in from Chicago, pulling an all-nighter, because he could not decide until the last minute if he wanted to go back. He'd been living in Chicago since running away from Switchcreek, 13 years ago, after everything changed.
The opening of any number of novels, classic in its prodigal simplicity, promising Faulknerian brambles with a dash of Wolf (Thomas that is) and a thread of O'Connor. The returning son of the local preacher, reconnecting, abrading old scabs, stirring nearly-dead ashes, the stuff of Americana along gothic lines. The changes, of course, mask how much everything has remained pretty much the same. After a time, one can even overlook those changes…
Not in Daryl Gregory's second novel, The Devil's Alphabet. The changes in this case cannot be ignored. By anyone.
Switchcreek has undergone a profound experience in the form of mutations which swept through the small population, transforming many residents into distinctly divergent species. The genetic instructions for these people have been rewritten by some unknown process, which did not strike all people. When the changes worked their way through, Switchcreek was home to populations of what became known as Argos, Betas, and Charlies, as well as the untouched population.
---