A New Copy of Dhalgren: Caution, BookCrossing
A New Copy of Dhalgren: Caution, BookCrossing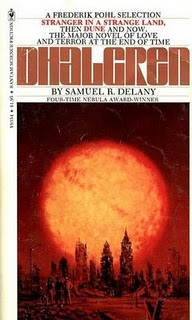 I bought my first copy of Dhalgren in the late 70s. If memory serves, I accidently dropped it in the sink shortly thereafter.  It swelled up and got sorta lumpy, even after it dried.
A few years ago I decided it was time to get a replacement. Now, I received a review copy of the imposing new trade paperback edition from Vintage Press a while back, with a big blurry red skyscraper on the cover, but what I wanted was the original 1975  Bantam edition (at left), which captured my imagination 35 years ago. Before it sank beneath the suds in our kitchen sink while I was supposed to be washing dishes, anyway.
It takes a while to find a pristine, unread copy of a 35-year old paperback, even on eBay. But before too long I had one, tucked snugly away with my other Samuel R. Delany, and I packed the old one away in the basement.
Except, now I want to read it. No point looking for the one I'd buried in the basement months ago (you'd understand if you saw my basement) — and anyway, who wants to read a book that's all lumpy? I could read the new one… but man, I paid handsomely to have a pristine copy. Dhalgren is 890 pages — not exactly easy to read when you're trying not to bend the spine.
So I did what any rational person would do. Back to eBay to find another copy.
This is the kinda thing that drives Alice crazy (Miss "Explain to me why you need a fourth copy??"), but I was very happy when it arrived today. And then I found this hand-written note on the inside cover:
BCID: 361-4144887

Dear Stranger,

If you read this book, please visit bookcrossing.com and say so. This book is traveling from hand to hand – better to be read by many people than to gather dust on a shelf. BookCrossing tracks it so that we readers know where it goes and what others think of it. Just go to the website, enter the BCID above, and leave a brief journal entry (anonymous, if you prefer). Then leave it somewhere to be read again.

Thank you!
Apparently, this thing is legit. The website checks out and everything. I entered my BCID and discovered my new copy of Dhalgren had been read by someone named Vasha and then "released into the wild" in a cafe in Ithaca, New York on August 2, 2006.
It's hard to describe the delight in Alice's eyes when she saw this. "You should pass it along!" she exclaimed. "Put it on a park bench or something."  Get it out of her house, she means. My wife's sanity depends on defending as much square footage as she can from the encroaching book madness. In her fondest dreams, this process involves a flamethrower.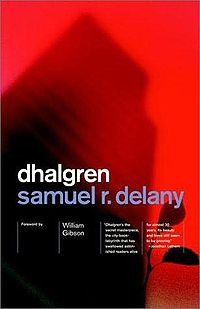 I admit the idea is actually pretty cool (BookCrossing, not the flamethrower). According to the website, 846,541 people in over 130 countries have registered books at BookCrossing. And it was neat to know the history of my little paperback. Even if Vashsa admitted she "struggled through a couple chapters of fragmented language and then gave up." Lightweight.
No, my issue with this whole thing is that I somehow find myself obligated to pass my book along to someone. How did that happen? I just paid six bucks for this thing!
"Better to be read by many people than to gather dust on a shelf," says the earnest author of my hand-written note (Likely Vasha, and what does she know? She couldn't even finish it!)
Says who? My books do just fine gathering dust on my shelf. They like it there. No one bothers them, they don't get rained on, or pulped, or remaindered, or found on a park bench by some homeless guy looking for kindling. I protect my books. I give them a good home (unless you count the ones in the basement).
Oh, I give up. The whole idea is just too compelling. At some point I'm going to have to release this book "back into the wild." If I don't, it'll stare at me from across the room and I'll get no peace.
But it won't be a park bench. I'll set this book down gently on a table at a con, and then hang around behind a nearby plant until someone picks it up. And maybe I'll follow them for a while, to make sure they check out. I'll be like empty nesters taking their only kid to college, looking under dorm beds for cockroaches.
So if you happen to find a handsome copy of Dhalgren sitting innocently on a table at Capricon, take my advice. Make sure your fingernails are clean, and your intentions are pure, before you pick it up.
And then enjoy it with my compliments. In the meantime I'll be on eBay, hunting up a new copy.