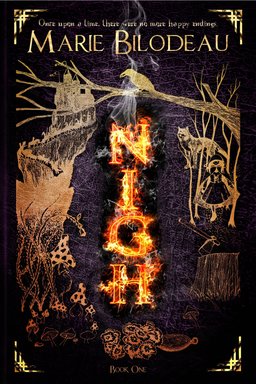 I wanted to talk to Marie Bilodeau, a multi-Aurora-nominated Ottawa-area author about her new novel, Nigh. It is an apocalypse story, a magical one, which is an original twist, but it's also taking an old-school/new-school leaf in that Marie decided to serialize the novel as several novellas and self-publish them. So I sat virtually with Marie and the disjointed conversation that follows is the best one out of twenty-six takes…
So what's fun about Nigh?
FAERIEPOCALYPSE!
Stop! That's not even a real word! God, let's start again. Take twenty-five….
No! Keep typing! It is a word! That's what fun. I've taken all the old scary faerie stories and thought about what would happen if the veil between our world and theirs suddenly collapsed. It's not pretty. It's definitely dark fantasy that could also be considered horror.
Plus, since I'm a professional storyteller, I'm also going to be performing a set of traditional faerie stories, woven in with some bits of Nigh, as bonus-can't-read-this-on-the-page material. No, but seriously: FAERIEPOCALYPSE!
---