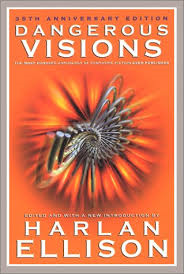 It's well known in the publishing industry that anthologies don't sell well. It may be a fact , but it's one I don't really understand. I've been buying and reading anthologies my whole life and I'm at a loss to explain why others don't enjoy them as much as I do.
Anthologies come in different flavours, of course. There's your original anthologies versus your reprint anthologies. Then there's your single-author collections versus your multi-author. Original anthologies can come in either multi-author or single-author, and . . . well, I think you can do the math for yourselves.
Probably the most famous multi-author anthology of original stories is Harlan Ellison's Dangerous Visions (1967). A glance through the table of contents is like reading a Who's Who of famous and celebrated SF writers – many of whom were novices at the time of publication. There's Robert Bloch, Philip Jose Farmer, Philip K. Dick, Larry Niven, Fritz Leiber, as well as Theodore Sturgeon, RA Lafferty, Samuel R. Delany, Roger Zelazny . . . okay, you get the idea.
Dangerous Visions, and its follow-up, Again Dangerous Visions, are examples of a themed anthology. In this case, writers had to create not only a story of the future, but the story had to show a dangerous future. Physically dangerous, like Larry Niven's "The Jigsaw Man" or spiritually dangerous, like Leiber's "Gonna Roll the Bones" (my husband's favourite story of all time).  Sometimes, the danger lay in the author's pushing the envelope of what contemporary mores were, like Farmer's "Riders of the Purple Sage" or Delany's "Aye, and Gomorrah."
---