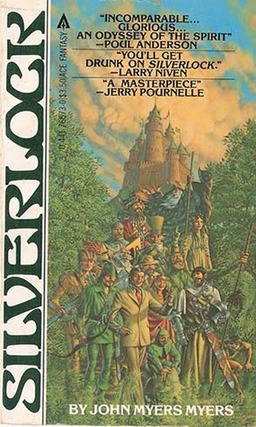 Last week, I was talking about L. Sprague de Camp and Fletcher Pratt's Compleat Enchanter and it occurred to me that one of the great pleasures of that work is encountering familiar myths, persons, and fictional events in a new guise and from a new perspective. It's also a bit intimidating, from the point of view of a writer, to realize just how thoroughly de Camp and Pratt had to know their source materials.
It doesn't take very long to go from these thoughts to the great masterwork of this type, John Myers Myers's Silverlock. On the surface, the book tells the story of  A. Clarence Shandon – re-christened Silverlock due to a white streak in his hair –  on his journey of self-discovery after being shipwrecked on the shores of the Commonwealth.
It doesn't take long, in fact he's still in the water,  for the well-read person to begin to find a certain quality of familiarity in the narrative, to figure out that Shandon has made landfall in the Commonwealth of Letters. From the very first, every  person he meets, every place he goes, everything that happens to him, alludes to some piece of literature. Every single person, place, or thing. What adds to the pleasure is that Shandon himself has no idea of what's happened to him. His degree is in business administration.
Now this might strike you as a bit overwhelming, or even a bit tedious, but it isn't. Shandon himself, without being aware of it,  provides the key to enjoying the book:
At times the mind works on two levels at once, and it was so with mine on this occasion. Half of it was giving itself gleefully to the moment, while the other half was revolving a new idea. What had impressed me was that this friar was well-informed and had a lot of fun out of that fact alone…  I glimpsed the concept that to know a thing for itself could be a source of joy. Take the song we were bellowing. It was easy to appreciate, but I would have had more chuckles out of if I had known, as the others did, about the personages involved.
---