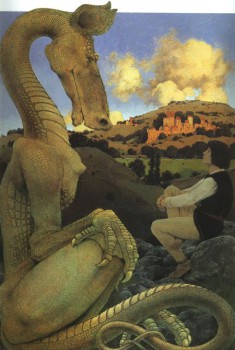 Back in 2011, I penned the first in this occasional series with an attempt at rating and relating the fantasy titles I've read aloud to my boys, then aged seven and eleven. They're now two years older and two years larger, if not wiser (though they are sometimes that as well).
Sadly, older child Corey no longer cottons to a bedtime story.
Evan, however, is not only game, he's adamant that he receive his daily dose of out-loud fiction. The question as always is what to read? What's appropriate? And what does "appropriate" even mean?
Right now, Evan's big wish is to see Catching Fire in the theaters. He was too young for The Hunger Games, but he's now read all the books (on his own, like most of his fourth grade classmates), and seems quite keen to revel in the filmic gore of Panem bloodletting. We'll see.
While that debate simmers, the fare of late has included L. Frank Baum's The Magic Of Oz, Colin Meloy's Wildwood, Mollie Hunter's The Walking Stones, and Avi's Crispin: The Cross Of Lead. Plus a short, Kenneth Grahame's "The Reluctant Dragon." Evan chose the Oz title, and I chose the other four.
---