Vintage Scares: The Most Terrifying Short Stories Ever?
In my fourth grade year, my teacher, for reasons still unknown to me, decided to read F. Marion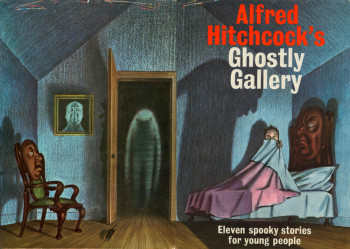 Crawford's "The Upper Berth" aloud to our class.
The story is not so well known these days, but back in the late seventies, it had gained a certain notoriety by virtue of its inclusion in Alfred Hitchcock's Ghostly Gallery, an omnibus to which I have (with trepidation) returned to many times since. If Hitch was the source from which my teacher made her choice, perhaps she was gulled by the book's subtitle, which read, "Eleven spooky stories for young people."
Let me reiterate the salient feature of that rash, dangerous subtitle: FOR YOUNG PEOPLE.
Ha!
To be sure, "Miss Emmeline Takes Off" (Walter Brooks) and "The Haunted Trailer" (Robert Arthur) are easy on the soul, but how to explain the inclusion of "The Waxwork" (A.M. Burrage) or "In a Dim Room" (Lord Dunsany)?
As for "The Upper Berth," suffice it to say that just as my teacher reached the climactic moment, our rapt, wide-eyed class erupted into chaos. One child whimpered; another screamed. Poor Alicia literally leaped to her feet and fled the room, running for dear life for the imagined safety of any spot on earth where she could no longer hear the teacher's voice.