Adventures on Stage: Fantasy Literature's Missing Link
Adventures on Stage: Fantasy Literature's Missing Link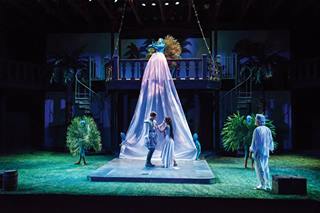 A few weeks back, I had the good fortune to take in productions of The Tempest and Peter and the Starcatcher at the Utah Shakespeare Festival (Cedar City, Utah). As I drove away afterward, I could not but help thinking that plays, too, are literature, and that more than a passing handful of theater's best, these two titles included, are outright, unabashed fantasies. Adventures, even.
It is admittedly difficult to keep current with theater, since stagecraft is not, as books, comics, and film/television most surely are, a truly mass media. Access is tricky; productions are both local and fleeting. Also, the habit of theater can be expensive.
Nevertheless, I'm going to make a case, here and now, that Black Gate's readership should take stock and keep track of contemporary theater. Scripted plays, after all, predate the novel as a form by many centuries, and we would be as blind as Tiresias were we to forget that were it not for Oedipus Rex, we would know nothing of that fantasy staple, the talking, riddling sphinx.
First, then, a brief summary of the two plays that led me to this essay.
In the Utah Shakes production of William Shakespeare's The Tempest, Prospero is even more a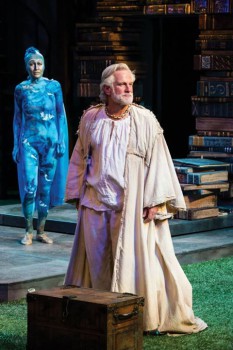 magician than usual. His books open of their own accord; his staff lights like Gandalf's when he smacks it against the ground. As for his prisoner-servant, the fairy sprite Ariel, she flits from scene to scene and breeze to breeze clad all in blue, like a balletic escapee from Avatar. Caliban, Ariel's grumpy opposite number, is an earth elemental made flesh, a creature of base needs and limited acumen (although even he, by play's close, swears in future to cleave close to the ways of grace).
That Prospero controls and effectively enslaves both Ariel and Caliban (not to mention his daughter, Miranda) has been endlessly discussed by greater Shakespeare scholars than I, but the emotional power of the scenes in which he renounces magic, forgives Caliban, and releases Ariel is never in doubt. Shakespeare rarely makes me cry –– the work is from such a different time –– but this production managed it. Ariel joyfully returns to the wind, and Prospero, in tears, snaps his mighty staff in two.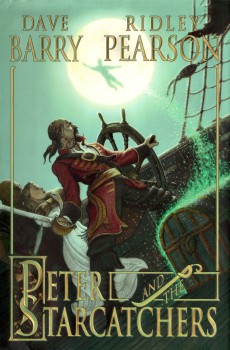 Peter and the Starcatcher, adapted by playwright Rick Elice from Dave Barry's and Ridley Pearson's eponymous book, is a bawdy pirate yarn that serves as fanciful prelude to J.M. Barrie's much loved Peter Pan. In the spirit of the limited tech of Barrie's first living room productions of Pan, Peter and the Starcatcher employs props, together with sound and lighting effects, to conjure nearly every scene change. Ropes, propped up by pirates, serve as cabin doors; a bright yellow washcloth becomes the bird that later is transformed into Tinkerbell.
The basic elements of the plot are simple: a heroic attempt to destroy a chest of magical and potentially dangerous "star stuff" goes amusingly awry when the chest washes overboard, infecting a nearby island and bringing to life everything from mermaids to a giant crocodile. The nameless orphan who washes to shore along with the chest becomes the future Peter Pan, and the pirate out to steal the chest becomes, of course, Captain Hook, but only after losing a hand and making off with nearly all the best lines.
Does the play work? Yes. In fact, the "Panto"-inspired pirates-in-drag mermaid dance that opens Act Two is likely worth the price of admission all by itself. It's suitable for all ages, too, although it aims more for the young at heart than at the truly young.
Of course, Peter and the Starcatcher does come saddled with an inescapable theatrical rub. Fact: unless you have plans to pass through Cedar City, Utah, in the next couple of months, you, gentle reader, will miss out on this clever, immensely enjoyable production.
Luckily, the future (as the song says) is wide open.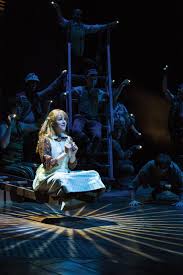 Here's how regional theater works. A non-musical play, if it's lucky, gets a run in New York City, most likely off Broadway. If it gets good reviews, it may then get noticed by various regional theaters, especially those in the so-called National New Play Network (the NNPN). With a little more luck, this notice will lead to a slow series of rolling productions, plays that will, over the course of a year or three, play in regional markets all over the country, each with its own design team, cast, and director.
Peter and the Starcatcher has, so far, been licensed regionally only at Utah Shakes, but more productions are certainly in the offing. It might take a decade or more before the play filters into truly wide release (to borrow the Hollywood term), but eventually, like the hilariously profane and Muppet-laden Avenue Q, it'll show up in virtually every mid-size city nationwide.
So the model is different –– as it must necessarily be, given that we're talking here about live, not filmed, performance––but in the long run, Peter and the Starcatcher, like The Tempest, absolutely will be an accessible fantasy offering, one whose slowly unfurling and always unpredictable existence will last for years.
Anyone wishing to see it will therefore require both a tracker's skill and a Brahmin's patience, but this is not so different, really, than the process endured by those who do not subscribe to HBO, and must haunt their local libraries until Game of Thrones at last becomes available.
Consider this: fantasy fare comprises fully one third of Utah Shakes' playbill this season (their other plays are King John, Love's Labours Lost, Anything Goes, and Twelve Angry Men). Nor is this percentage all that far from the norm. Broadway boasts Spiderman: Turn Off the Dark, Rogers and Hammerstein's Cinderella, and Wicked.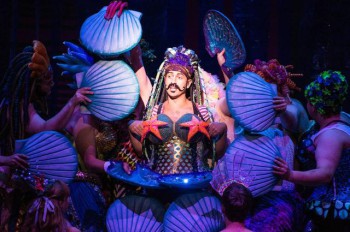 Not far from the theater district, the intrepid explorer will find a renovated warehouse recast as "The McKittrick Hotel," in which, for a sum nearly as princely as Broadway's own entrance requirements, brave adventurers may wander freely in a Blair Witch version of Birnam Wood, in search of the mad king MacBeth and his many victims.  The audience dons plain white masks, and the performers (not masked) appear and disappear with ghostly, spirited abandon. Every entrant's experience is different (the show is spread out between four different floors), and the mood that lingers afterward is of having been transported inside some cosmic combination of Twin Peaks at its most bizarre and any given gothic chiller: W.W. Jacobs, perhaps, or Willkie Collins, or Francis Marion Crawford ("The Upper Berth").
The fact is, theater the world over is filled with the supernatural. Consider The Ramayana: beware of Rangda and the leyaks! The Day of the Dead (Dias de los Muertos) street festivals of Mexico positively lurch with shuffling skeletons, and even if you're lodged right here in the United States, you need not live in striking distance of New York to catch up with staged fantasy.
Sarah Ruhl's lyrical take on Eurydice is being performed on one college campus after another; Chicago features a performance troupe calling itself Babes With Blades; Cirque du Soleil mingles slipstream surrealism with traditional circus stunts in venues across the nation; Actors Theatre of Louisville recently produced a tri-partite extravaganza of new work entitled Sleep, Rock Thy Brain featuring flying physicians (who can dance!) and astronauts so challenged by a lack of forty winks that they hallucinate their way into sabotaging their own mission. It's like a Ray Bradbury story coming to three-dimensional life, and it all takes place in mid-air.
Need I even mention the nut-cracking insanities of E.T.A. Hoffman, a tradition that springs to sugar-plum life annually in practically every town in the U.S. (not to mention a good many beyond)?
While it's certainly true that no one seems to be adapting Jack Vance or Ursula LeGuin to the stage, and the cinema admittedly does have a lock on certain levels of pell-mell, guns-a-blazing violence, there is superior fantasy work to be found on the stage all across the globe.
I grant this much, however: quality theater is not always easy to find, so I hereby swear that I will on occasion haunt these pages with the goal of directing you, gentle reader, to the best and brightest performances and plays available.
Why?
Two reasons. First, I am among other things a playwright, and I want to spread the gospel of one of my favorite literary playgrounds, and second, performance predates the written novel by who knows how many centuries, and it's high time we gave this oldest brand of literature its due.
So.
'Til next time.
Dream hard.
Write harder.
---
Mark Rigney's latest story for Black Gate was "The Find," which Tangent Online called "reminiscent of the old sword & sorcery classics… A must read." You can see what all the fuss is about here.