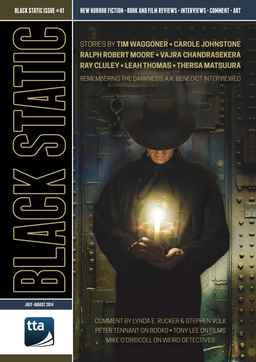 Last month, I reported on the first issue of Black Static magazine I ever purchased, issue 40. I was very impressed.
Good thing, too, because I took a chance and bought issue #41 at the same time. I have no idea why two issues of the same magazine were simultaneously on the stands, but I'm glad they were.
On the magazine's website is this friendly but blunt request:
Magazines like Black Static cannot survive without subscriptions and always needs more support than it gets. If you enjoy it please blog about it, review it, tell your friends, and encourage other people to subscribe. Thank you!
Truer words were never spoken. Magazines like Black Static are completely dependent on fans and readers to keep them alive. I hope this magazine survives for a good long time — but it won't without reader support. In that spirit, I am very happy to shine a spotlight on Black Static here on the blog. If it sounds intriguing, I hope you'll consider buying an issue next time you find yourself browsing the magazine rack.
Black Static is a British magazine of dark fantasy and horror, edited by Andy Cox. It used to be called The 3rd Alternative, until that magazine went on hiatus in 2005. It was acquired by TTA Press, the publishers of Interzone and Crimewave, and in 2007 it was relaunched as Black Static.
---