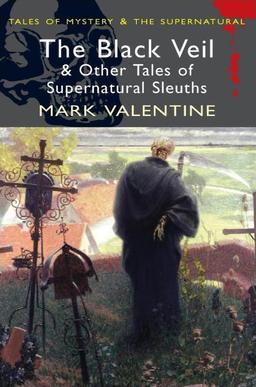 I love these Wordsworth Tales of Mystery And The Supernatural volumes. They've compact, attractive, and inexpensive — they look great on the shelf, and they make quick reads. Plus, they're just so darned collectible.
My latest acquisition is already one of my favorites. We've paid a lot of attention to Supernatural Sleuths at Black Gate over the years, from William Hope Hodgson's Carnacki The Ghost Finder to Manly Wade Wellman's John Thunstone and Silver John stories, and Paula Guran's terrific recent anthology Weird Detectives – and deservedly so. This has been a year of terrible weather and when it's cold, dark, and blustery outside, the best antidote is to curl up with a cozy blanket and a warm beverage, and share the adventures of an intrepid occult detective.
Our real expert is Josh Reynolds, who over the last few years has covered many of the most famous literary examples in his series on The Nightmare Men – from Sheridan Le Fanu's Dr. Martin Hesselius to Aylmer Vance, The Ghost-Seeker; from Manly Wade Wellman's stalwart Judge Keith Hilary Pursuivant to Seabury Quinn's always resourceful Jules de Grandin.
Looking back over all those articles, you may just find yourself more than a little curious. But where to start? Why not start with Mark Valentine's generous collection of some of the best short stories featuring some of the greatest  supernatural sleuths in all of literature?
The Gateway of the Monster… The Red Hand… The Ghost Hunter

To Sherlock Holmes the supernatural was a closed book: but other great detectives have always been ready to do battle with the dark instead. This volume brings together sixteen chilling cases of these supernatural sleuths, pitting themselves against the peril of ultimate evil.

Here are encounters from the casebooks of the Victorian haunted house investigators John Bell and Flaxman Low, from Carnacki, the Edwardian battler against the abyss, and from horror master Arthur Machen s Mr Dyson, a man-about-town and meddler in strange things. Connoisseurs will find rare cases such as those of Allen Upward s The Ghost Hunter, Robert Barr s Eugene Valmont (who may have inspired Agatha Christie s Hercule Poirot) and Donald Campbell s young explorer Leslie Vane, the James Bond of the jazz age, who battles against occult enemies of the British Empire. And the collection is completed by some of the best tales from the pens of modern psychic sleuth authors.
---