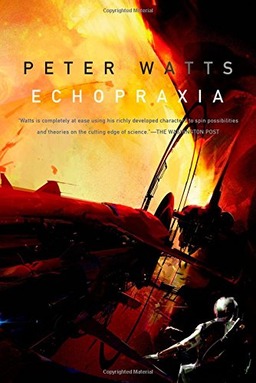 Peter Watts is a fellow Canadian and that makes him cool.
Well, that and the fact that he writes intensely cool SF novels, like the Hugo-nominated Blindsight, which Charles Stross described as "a first contact with aliens story from the point of view of a zombie posthuman crewman aboard a starship captained by a vampire." Any time you can get Charles Stross on record saying "zombie posthuman crewman," you know you're cool. Plus, Ken Levine, the Creative Director for the hit video game BioShock, credits Watts as a significant influence on his game. That's coolness right there.
Watts's latest novel Echopraxia, described as a "sidequel" relating events on Earth during Blindsight, arrives at the end of the month, and Tor Books has been kind enough to offer us a copy to use as a giveaway (Thanks, Tor! You guys are super-cool.)
How do you enter? Just send an e-mail to john@blackgate.com with the title "Echopraxia" and a one-sentence review of your favorite Tor science fiction novel. One winner will be drawn at random at the end of the month from all qualifying entries and we'll publish the best reviews here on the Black Gate blog.
All entries become the property of New Epoch Press. No purchase necessary. Must be 12 or older. Decisions of the judges (capricious as they may be) are final. Not valid where prohibited by law, or outside the US and Canada.
Here's the book description.
---