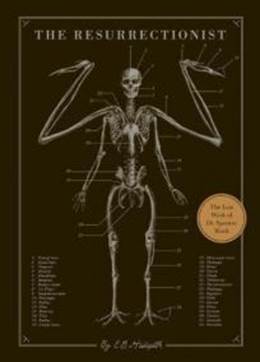 "If they knew what horrible things were available to them they would take comfort in their own suffering."
                                                                        -Dr. Spencer Black
I have been sitting here for long moments and I am still not sure where to start telling you about this.
It is art and science and masterful storytelling packaged and tied with a blood splattered ribbon. It is at once indescribably beautiful and nightmarishly horrifying. It is my latest obsession and my signed copy caused me to remove everything else from my coffee table to ensure no other object would detract from it.
It is The Resurrectionist, by EB Hudspeth.
Hudspeth is one of the people I couldn't wait to introduce you to, whom I met at this year's C2E2 event in Chicago.  When Nicole at Quirk Books got in touch, she described EB (he said we could all call him Eric) as "author, artist and creator of 'Frankenstein meets Gray's Anatomy.'"
Couple this with Quirk's charter of publishing only 25 strikingly unconventional books every year, and this amounted to an opportunity there was no way I was going to miss.
Eric Hudspeth came in out of the rain (literally) to sit down and talk about The Resurrectionist during his visit to Chicago – the 1893 version of which figures prominently in his tale.
---