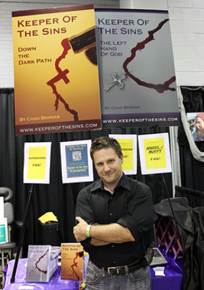 We met author Chad Bednar at this year's Chicago Comic Con when he lured us into his booth with his stories promising vampires, evil artifacts and the Vatican.
What can I say?  Not all girls like chocolates and flowers.
After reading the first installment in his Keeper of the Sins series, it was obvious that you all needed to meet Chad as well.  With Black Gate being an oasis for emerging authors where they can always be assured of a cushy chair, an adult beverage and a warm welcome – everyone, meet Chad Bednar.
Chad, meet everyone.
GC: How did you first get into writing?  Was it to meet girls?
CB: No, nothing that weird.  Besides, I met the girl of my dreams in a cadaver lab (GC: Really? You're always welcome in the Goth Chick News office in that case).  I started writing because I had more to say, but only thought of the perfect way to say it later.  My brain is irritating that way.
What was your inspiration for Keeper of Sins?
It's a dovetailing of a number of my interests.  I am constantly distracted by all things fantastical.  If the SyFy channel had been around when I was younger, I would have starved to death in front of it.  The question of faith is a journey I've wrestled with, and this is my lifelong research.
---