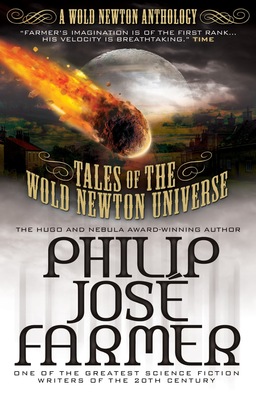 October marked the release of Tales of the Wold Newton Universe, a new anthology from Titan Books that collects, for the first time ever in one volume, Philip José Farmer's Wold Newton short fiction, as well as tales set in the mythos by other Farmerian authors.
The Wold Newton Family is a group of heroic and villainous literary figures that science fiction author Philip José Farmer postulated belonged to the same genetic family. Some of these characters are adventurers, some are detectives, some explorers and scientists, some espionage agents, and some are evil geniuses. According to Mr. Farmer, the Wold Newton Family originated when a radioactive meteor landed in Wold Newton, England, in the year 1795. The radiation caused a genetic mutation in those present, which endowed many of their descendants with extremely high intelligence and strength, as well as an exceptional capacity and drive to perform good, or, as the case may be, evil deeds. The Wold Newton Universe is the larger world in which the Wold Newton Family exists and interacts with other characters from popular literature.
To celebrate the release of the new anthology, we've asked the contributors to discuss their interest in Philip José Farmer's work and to tell us something about how their stories in the book specifically fit into the Wold Newton mythos.
For today's installment, please welcome author and co-editor of Tales of the Wold Newton Universe, Win Scott Eckert.
Christopher Paul Carey
Co-editor, Tales of the Wold Newton Universe
---