Black Gate 12 — Summer 2008
Black Gate 12 — Summer 2008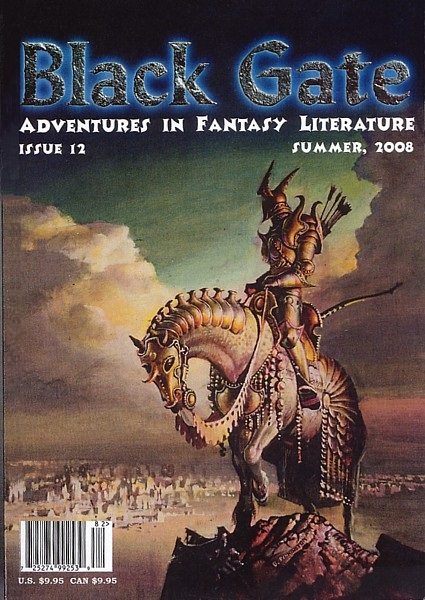 224 pages, $9.95
On Sale July 7, 2008
Edited by John O'Neill
Published by New Epoch Press
Website Editor: Leo Grin
Cover Art by Bruce Pennington
Interior Art by Storn Cook, Mark Evans, John Kaufmann, Chuck Lukacs, Michael Vilardi, and John Woolley
Buy this issue — only $9.95 plus postage and handling!
---
FICTION
"Oblivion Is the Sweetest Wine" by John R. Fultz
The spider haunted towers held untold riches — and a terrifying secret.
"Payment in Full" by James Enge
In which Morlock the Maker faces slavers, golems, Sandboys…and the Byzantine trap of an old nemesis.
"Houses of the Dead" by Martha Wells
There were no bodies. Only the empty village, the rumors of wizardry…and, of course, the ghouls.
"The Wily Thing" by Constance Cooper
A desperate client, an unusual bayou town, and a far more unusual object…a tale of things better left undisturbed.
"The Soldiers of Serenity" by Todd McAulty
He had 24 hours to save his entire team from corporate "downsizing"…and far less to discover why he was being stalked by a ghost.
"Knives Under the Spring Moon" by Ed Carmien
Kris found herself amongst the outlaws, and in a deadly fight for her life with her oldest enemy.
"Whispers from the Stone" by Howard Andrew Jones
The ruins of Assyria held many secrets — but none so deadly as that which Dabir and Asim discovered amongst the stones.
Fantasy Classic: "Tumithak and the Ancient Word" by Charles R. Tanner
The thrilling conclusion to the epic saga of Tumithak! Tumithak races to rescue his kidnapped wife and son, only to become embroiled in a fiendish scheme to drive humanity back to the tunnels under the earth…
---
FEATURES
Legends of the Ancient World: Orcs of the High Mountains
A Solo Adventure Game from Dark City Games
Story by Jerry Meyer, Jr.
---
DEPARTMENTS
Editorial: Solitaire Fantasy Gaming
by John O'Neill
Letters
From Our Readers
Back Issues
A list of rare (but miraculously still available) back issues of Black Gate.
Next Issue
More from Peadar Ó Guilín, John R. Fultz, John C. Hocking, David Wesley Hill, Amy V. Tibbetts, and L. Blunt Jackson. Plus the exciting conclusion of Mark Sumner's The Naturalist saga, in "St. George and the Antriders." What have you done to deserve such bounty?
---
REVIEW FEATURES
Book Reviews
The Inferior, by Peadar Ó Guilín
Elak of Atlantis, by Henry Kuttner
Lorelei of the Red Mist, by Leigh Brackett
The Secret of Sinharat, by Leigh Brackett
Astounding Hero Tales, edited by James Lowder
Lester Dent's Zeppelin Tales, edited by Matthew Goodman
Portable Childhoods, by Ellen Klages
Triangulation: End of Time, edited by Pete Butler
Last Dragon, by J. M. McDermott
The Vacant Throne, Joshua Palmatier
by Charlene Brusso, Howard Andrew Jones, Jackson Kuhl, Thomas M. MacKay, Todd Ruthman, and Kuen Tang
---
GAMING
Fantasy Game Reviews
Castle Whiterock, Goodman Games
Pathfinder 4: Fortress of the Stone Giants (Rise of the Runelords), Paizo
Monsternomicon vol. 1: Denizens of the Iron Kingdoms — v3.5, Privateer Press
Monsternomicon vol. 2: The Iron Kingdoms and Beyond, Privateer Press
Hollow Earth Expedition, Exile Game Studio
Colonial Gothic, Rogue Games
W1: Conquest of Bloodsworn Vale, Paizo
Entombed with the Pharaohs, Paizo
Traveller Supplements from British Isles Traveller Support
— 101 Cargos
— 101 Patrons
— 101 Plots
Traveller Supplements from Avenger Enterprises Products
— Special Supplement 3: Patron Encounters
— Special Supplement 5: Short Adventures
Campaign Cartographer 3, ProFantasy
Battleground Crossbows & Catapults War Chest, Moose Enterprise Pty Ltd, War Chest Starter Kit
by Howard Andrew Jones, Andrew Zimmerman Jones, E. E. Knight, and Jackson Kuhl
---
COMICS
Knights of the Dinner Table: The Java Joint
by Jolly Blackburn, John O'Neill, and Steve Johansson