Now Shipping: Black Gate 14
Now Shipping: Black Gate 14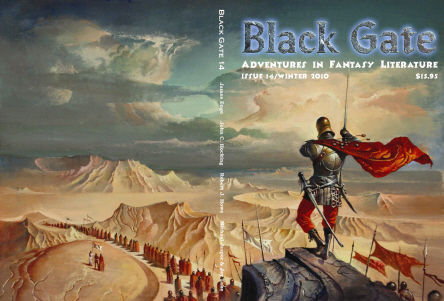 Black Gate 14 is now shipping.  Foreign and domestic subscriber copies went in the mail last week.
At  384 pages, Black Gate 14 is the largest issue in our history. Be sure you're in a sturdy chair while reading.
It includes an 8-page Knights of the Dinner Table strip, nearly 25 full pages of art, and over 150,000 words of fiction – including a Morlock novella from James Enge, a new tale of Brand the Viking from John C. Hocking, and fiction from Michael Jasper & Jay Lake, Pete Butler, Robert J. Howe,  Diana Sherman, Martin Owton, Mike Shultz, and many others.
Rich Horton returns with another detailed look at the rich history of the fantasy genre, this time focusing on publishers striving to keep the best of the past in print in "Back To The Future: Modern Reprints of Classic Fantasy." And of course we include our regular review columns, calling out the finest new fantasy games and books, assembled and edited by Howard Andrew Jones and Bill Ward.
The complete Black Gate 14 preview is here.
The gorgeous wraparound cover is by Bruce Pennington, who also did the cover to Black Gate 12.
The issue is available for just $15.95, plus $2.50 shipping – or, until we come to our senses, you can include it as part of a 4-issue subscription for the criminally low price of $29.95. Our order page is here.
We're hard at work converting the issue to PDF format, and will make a downloadable version of the issue available in early April for just $4.95 (only $2.95 for existing subscribers).