2013 Hugo Award Nominees Announced
2013 Hugo Award Nominees Announced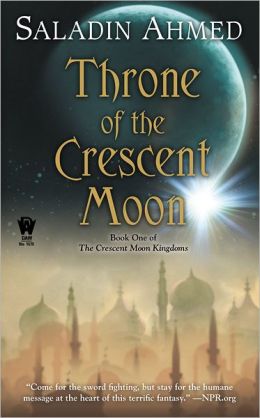 The nominees for the 2013 Hugo Awards were announced this weekend. There's a lot of great reading on this list and, if you're like me, you're still planning to get to most of it.
It's not too late — and if you finish your reading before voting closes, you can help decide the winners. Voting is open to all attendees of LoneStarCon 3, the 2013 World Science Fiction Convention, and the winners will be announced at the convention on Sunday, September 1, 2013.
One odd thing about this year's ballot? There are only three nominees for short story (usually there are five). The adminstrators state this is "due to a 5% requirement under Section 3.8.5 of the WSFS constitution." No, I don't know what that means either. I'm sure it will be much discussed, and somebody will explain it to me.
The nominees for the 2013 Hugo Awards are:
Best Novel
2312 by Kim Stanley Robinson (Orbit)
Blackout by Mira Grant (Orbit)
Captain Vorpatril's Alliance by Lois McMaster Bujold (Baen)
Redshirts: A Novel with Three Codas by John Scalzi (Tor)
Throne of the Crescent Moon by Saladin Ahmed (DAW)
Best Novella
After the Fall, Before the Fall, During the Fall, by Nancy Kress (Tachyon Publications)
The Emperor's Soul by Brandon Sanderson (Tachyon Publications)
On a Red Station, Drifting, by Aliette de Bodard (Immersion Press)
San Diego 2014: The Last Stand of the California Browncoats, by Mira Grant (Orbit)
"The Stars Do Not Lie," by Jay Lake (Asimov's SF, Oct-Nov 2012)
Best Novelette
"The Boy Who Cast No Shadow," by Thomas Olde Heuvelt (Postscripts: Unfit For Eden, PS Publications)
"Fade To White," by Catherynne M. Valente (Clarkesworld, August 2012)
"The Girl-Thing Who Went Out for Sushi," by Pat Cadigan (Edge of Infinity)
"In Sea-Salt Tears," by Seanan McGuire (Self-published)
"Rat-Catcher," by Seanan McGuire (A Fantasy Medley 2, Subterranean)
Best Short Story
"Immersion," by Aliette de Bodard (Clarkesworld, June 2012)
"Mantis Wives," by Kij Johnson (Clarkesworld, August 2012)
"Mono no Aware," by Ken Liu (The Future is Japanese)
Best Related Work
The Cambridge Companion to Fantasy Literature, edited by Edward James & Farah Mendlesohn (Cambridge UP)
Chicks Dig Comics: A Celebration of Comic Books by the Women Who Love Them, edited by Lynne M. Thomas & Sigrid Ellis (Mad Norwegian Press)
Chicks Unravel Time: Women Journey Through Every Season of Doctor Who, edited by Deborah Stanish & L.M. Myles (Mad Norwegian Press)
I Have an Idea for a Book… The Bibliography of Martin H. Greenberg, compiled by Martin H. Greenberg, edited by John Helfers (The Battered Silicon Dispatch Box)
Writing Excuses Season Seven, by Brandon Sanderson, Dan Wells, Mary Robinette Kowal, Howard Tayler and Jordan Sanderson
Best Graphic Story
Grandville Bête Noire, written and illustrated by Bryan Talbot (Dark Horse Comics, Jonathan Cape)
Locke & Key Volume 5: Clockworks, written by Joe Hill, illustrated by Gabriel Rodriguez (IDW)
Saga, Volume One, written by Brian K. Vaughn, illustrated by Fiona Staples (Image Comics)
Schlock Mercenary: Random Access Memorabilia, by Howard Tayler, colors by Travis Walton (Hypernode Media)
Saucer Country, Volume 1: Run, written by Paul Cornell, illustrated by Ryan Kelly, Jimmy Broxton and Goran Sudžuka (Vertigo)
Best Dramatic Presentation (Long Form) (787 ballots)
The Avengers, Screenplay & Directed by Joss Whedon (Marvel Studios, Disney, Paramount)
The Cabin in the Woods, Screenplay by Drew Goddard & Joss Whedon; Directed by Drew Goddard (Mutant Enemy, Lionsgate)
The Hobbit: An Unexpected Journey, Screenplay by Fran Walsh, Philippa Boyens, Peter Jackson and Guillermo del Toro, Directed by Peter Jackson (WingNut Films, New Line Cinema, MGM, Warner Bros)
The Hunger Games, Screenplay by Gary Ross & Suzanne Collins, Directed by Gary Ross (Lionsgate, Color Force)
Looper, Screenplay and Directed by Rian Johnson (FilmDistrict, EndGame Entertainment)
Best Dramatic Presentation (Short Form) (597 ballots)
Doctor Who:"The Angels Take Manhattan," Written by Steven Moffat, Directed by Nick Hurran (BBC Wales)
Doctor Who:"Asylum of the Daleks," Written by Steven Moffat; Directed by Nick Hurran (BBC Wales)
Doctor Who:"The Snowmen," Written by Steven Moffat, Directed by Saul Metzstein (BBC Wales)
Fringe:"Letters of Transit," Written by J.J. Abrams, Alex Kurtzman, Roberto Orci, Akiva Goldsman, J.H.Wyman, Jeff Pinkner. Directed by Joe Chappelle (Fox)
Game of Thrones:"Blackwater," Written by George R.R. Martin, Directed by Neil Marshall. Created by David Benioff and D.B. Weiss (HBO)
Best Editor – Short Form
John Joseph Adams
Neil Clarke
Stanley Schmidt
Jonathan Strahan
Sheila Williams
Best Editor – Long Form
Lou Anders
Sheila Gilbert
Liz Gorinsky
Patrick Nielsen Hayden
Toni Weisskopf
Best Professional Artist
Vincent Chong
Julie Dillon
Dan Dos Santos
Chris McGrath
John Picacio
Best Semiprozine
Apex Magazine edited by Lynne M. Thomas, Jason Sizemore and Michael Damian Thomas
Beneath Ceaseless Skies edited by Scott H. Andrews
Clarkesworld edited by Neil Clarke, Jason Heller, Sean Wallace and Kate Baker
Lightspeed edited by John Joseph Adams and Stefan Rudnicki
Strange Horizons edited by Niall Harrison, Jed Hartman, Brit Mandelo, An Owomoyela, Julia Rios, Abigail Nussbaum, Sonya Taaffe, Dave Nagdeman and Rebecca Cross
Best Fanzine
Banana Wings, edited by Claire Brialey and Mark Plummer
The Drink Tank, edited by Chris Garcia and James Bacon
Elitist Book Reviews, edited by Steven Diamond
Journey Planet, edited by James Bacon, Chris Garcia, Emma J. King, Helen J. Montgomery and Pete Young
SF Signal, edited by John DeNardo, JP Frantz, and Patrick Hester
Best Fancast
The Coode Street Podcast, Jonathan Strahan and Gary K. Wolfe
Galactic Suburbia Podcast, Alisa Krasnostein, Alexandra Pierce, Tansy Rayner Roberts (Presenters) and Andrew Finch (Producer)
SF Signal Podcast, Patrick Hester, John DeNardo, and JP Frantz
SF Squeecast, Elizabeth Bear, Paul Cornell, Seanan McGuire, Lynne M. Thomas, Catherynne M. Valente (Presenters) and David McHone-Chase (Technical Producer)
StarShipSofa, Tony C. Smith
Best Fan Writer
James Bacon
Christopher J Garcia
Mark Oshiro
Tansy Rayner Roberts
Steven H Silver
Best Fan Artist
Galen Dara
Brad W. Foster
Spring Schoenhuth
Maurine Starkey
Steve Stiles
John W. Campbell Award for Best New Writer
For the best new professional science fiction or fantasy writer of 2011 or 2012 (not a Hugo Award). Sponsored by Dell Magazines.
Zen Cho
Max Gladstone
Mur Lafferty
Stina Leicht
Chuck Wendig
Looking over the complete ballot, a few things stand out. First, kudos to Clarkesword with no less than three short fiction nominations — that's triple the nominations from Asimov's, Analog, and F&SF combined!
Of course, that's chiefly because Analog and F&SF had no nominations, and Asimov's had only one. I haven't looked back through prior year's ballots, but I'm pretty sure that's a new low. Not looking good for print magazines this year.
Lightspeed and Tor.com — which split 5 Nebula nominations between them this year — were also shut out.
I also suspect that Seanan McGuire's "In Sea-Salt Tears" is the first self-published work of fiction to ever make it to Hugo nomination ballot for short fiction, but I could be mistaken. Still, an impressive accomplishment, and no mistake.
One advantage to our new digital era? Most of the short fiction nominees are already online, and you can enjoy the best SF and fantasy of the year without lifting a finger (if you don't count your mouse finger). I'm too lazy to track down all the stories and link them here — especially since the tireless John DeNardo at SF Signal has already done it for you. Thanks John — and congratulations on your two Hugo nominations!
Want to vote for the Hugos, or learn more about the awards? Everything you ever wanted to know (except possibily the voting deadline, which I couldn't find anywhere) is available at the The Official Site of The Hugo Awards, and the LoneStarCon 3 Hugo Awards page.