Clarkesworld 103 Now on Sale
Clarkesworld 103 Now on Sale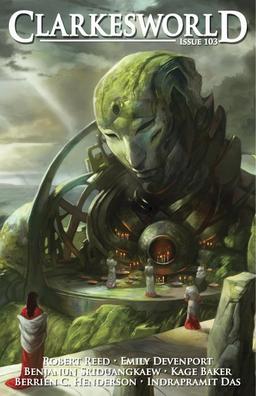 The newest issue of Clarkesworld, one of the most acclaimed fiction mags on the market, is now on sale. Issue 103 contains six short stories — including one by the source of that other big 2015 Hugo controversy, Benjanun Sriduangkaew, who also writes as the notorious blogger and book reviewer "Requires Hate."
Sriduangkaew's long-running campaign of intimidation and death threats against other genre writers was detailed in Laura J. Mixon's exhaustive "A Report on Damage Done by One Individual Under Several Names," for which Mixon was nominated for a 2015 Hugo Award for Best Fan Writer.
Short stories featured this issue are:
"The Empress in Her Glory" by Robert Reed
"Let Baser Things Devise" by Berrien C. Henderson
"The Petals Abide" by Benjanun Sriduangkaew
"Postcards from Monster Island" by Emily Devenport
"Noble Mold" by Kage Baker
"Weep for Day" by Indrapramit Das
Non-fiction includes "Small Markets, Big Wonders" by Julie Novakova, a report on a roundtable on Spanish science fiction by Alvaro Zinos Amaro, "Another Word: The Precious Five-Star and the Reviewers of Mount Doom" by Alethea Kontis, and an editorial, "Danger! Radioactive!," by Neil Clarke. This issue also includes three podcasts.
Clarkesworld is a three-time winner of the Hugo Award for Best Semiprozine. In 2013 Clarkesworld received more Hugo nominations for short fiction than all the leading print magazines (Asimov's, Analog, and The Magazine of Fantasy & Science Fiction) combined, and last November the magazine was awarded a World Fantasy Award.
If it weren't for the Sad Puppy/Rabid Puppy slate, which pushed aside all other contenders, Clarkesworld would almost certainly have been a heavy contender at this year's awards as well. However, it was completely locked out of the awards, for the first time in many years.
We last covered Clarkesworld with Issue 102.
Clarkesworld 103 was edited by Neil Clarke and Sean Wallace, and published by Wyrm Publishing. The contents are available for free online; individual issues can be purchased for $3.99, and monthly subscriptions are $2.99/month. A 6-month sub is $17.94, and the annual price is $35.88. Learn more and order individual issues at the magazine's website.
This issue's cover, "Sleeping Giant," is by Julie Dillon. See the complete issue here.
See our April Fantasy Magazine Rack here, and all of our recent Magazine coverage here.