Gardner Dozois on the 2013 Hugo Nominations
Gardner Dozois on the 2013 Hugo Nominations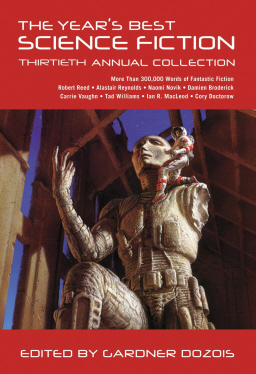 Gardner Dozois, editor of the upcoming The Year's Best Science Fiction: Thirtieth Annual Collection (and about a billion other science fiction and fantasy anthologies), offered some astute and telling observations on the 2013 Hugo Awards nominations this week.
In case you haven't noticed, I thought that I'd point out that this year's Hugo Award ballot represents a historic shift in demographics. This has been coming on for a couple of years now, but this year a tipping point has been passed.

In the fiction categories, only Nancy Kress, Pat Cadigan, Kim Stanley Robinson, and Lois McMaster Bujold come from the literary generation that came to prominence in the '80s. Everybody else is from a younger literary generation (which doesn't always mean that they're younger, although that's usually the way to bet it; literary generations are different from actual generations). There's only one story, Jay Lake's, from a traditional genre market, Asimov's, and only one story from a trade SF anthology, Cadigan's. Only six out of the thirteen shorter works even come from PRINT publications, and four of those were novellas published in chapbook form by small presses; all the rest are from online publications. Only two of the five people nominated for Best Editor, Short Form, work at traditional print magazines; the rest edit online publications. ALL of the nominees for Best Semiprozine are online publications.

This is not going to change back. This is the way things will be from now on.
We discussed the complete Hugo ballot here on Monday.