Clarkesworld 101 Now on Sale
Clarkesworld 101 Now on Sale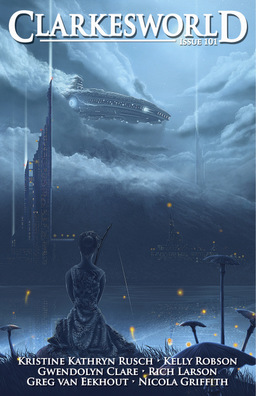 Issue 101 of Clarkesworld contains fiction from Kristine Kathryn Rusch, Greg Van Eekhout, Nicola Griffith, and others. Non-fiction includes "What in the World Do They Want, Anyway? The Myth of the Friendly Alien" by Mark Cole, "Another Word: YA is the New Black" by Dawn Metalf, interviews with Locus editor Liza Groen Trombi and Chinese author Tang Fei, and an editorial, "The Next Hundred," by Neil Clarke.
This issue's podcast is "The Last Surviving Gondola Widow," by Kristine Kathryn Rusch, read by Kate Baker.
Why should you pay attention to Clarkesworld? It's a three-time winner of the Hugo Award for Best Semiprozine, and stories from the magazine have been nominated (and won) countless awards, including the Hugo, Nebula, World Fantasy, Sturgeon, Locus, Shirley Jackson, and Stoker Awards. In 2013 Clarkesworld received more Hugo nominations for short fiction than all the leading print magazines (Asimov's, Analog, and The Magazine of Fantasy & Science Fiction) combined, and last November the magazine was awarded a World Fantasy Award.
We last covered Clarkesworld with Issue 100. If you prefer print, I highly recommend Clarkesworld: Year Six edited by Neil Clarke and Sean Wallace — an inexpensive and a great way to introduce yourself to Clarkesworld. Every purchase helps support the magazine… definitely worth considering if you're a fan of short fiction.
Clarkesworld 101 was published by Wyrm Publishing. The contents are available for free online; individual issues can be purchased for $3.99, and monthly subscriptions are $2.99/month. A 6-month sub is $17.94, and the annual price is $35.88. Learn more and order individual issues at the magazine's website.
This issue's cover, "Lady and the Ship," is by Atilgan Asikuzun. See the complete issue here.
See all of our recent magazine coverage here.