Clarkesworld 100 Now on Sale
Clarkesworld 100 Now on Sale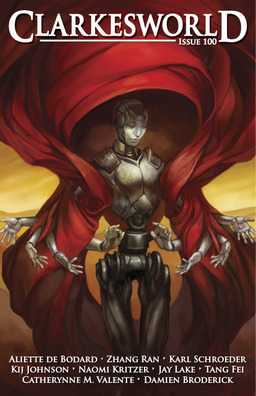 The award-winning Clarkesworld magazine published its 100th issue this month — a landmark by any measure. Very few SF and fantasy magazines have made it to 100 issues, and this is something that deserves to be celebrated.
This bigger-than-average issue contains fiction from Naomi Kritzer, Kij Johnson, Catherynne M. Valente, Jay Lake, Damien Broderick, Karl Schroeder, and others. The four non-fiction pieces are "Song for a City-Universe: Lucius Shepard's Abandoned Vermillion," by Jason Heller, "Exploring the Frontier: A Conversation with Xia Jia," by Ken Liu, "#PurpleSF" by Cat Rambo, and an editorial by Neil Clarke: "On the Road to One Hundred."
This issue's podcast is "Three Cups of Grief, by Starlight" by Aliette fde Bodard, read by Kate Baker.
Kate Baker, Neil Clarke, & Sean Wallace won the World Fantasy Award in the Special Award Non-Professional category for Clarkesworld in November (see our complete report here).
We last covered Clarkesworld with Issue 97 and the anthology Clarkesworld: Year Six edited by Neil Clarke and Sean Wallace. The anthologies are inexpensive and a great way to introduce yourself to Clarkesworld. Every purchase helps support the magazine… definitely worth considering if you're at all a fan of short fiction.
Clarkesworld 100 was published by Wyrm Publishing. The contents are available for free online; individual issues can be purchased for $3.99, and monthly subscriptions are $2.99/month. A 6-month sub is $17.94, and the annual price is $35.88. Learn more and order individual issues at the magazine's website.
This issue's cover is by Julie Dillon. See the complete issue here.
See all of our recent magazine coverage here.