Clarkesworld 102 Now on Sale
Clarkesworld 102 Now on Sale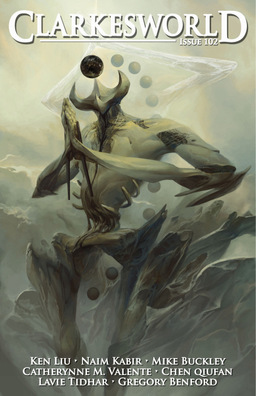 The latest issue of Clarkesworld, one of the most acclaimed fiction mags on the market, went on sale last week. Issue 102 contains seven short stories:
Slowly Builds An Empire, by Naim Kabir
Cassandra by Ken Liu
The Long Goodnight of Violet Wild (Part 2) by Catherynne M. Valente
All Original Brightness by Mike Buckley
Coming of the Light by Chen Qiufan
The Clear Blue Seas of Luna by Gregory Benford
The Book Seller by Lavie Tidhar
Non-fiction includes "Dark Angels: Insects in the Films of Guillermo del Toro," by Orrin Grey, "Another Word: A Shed of One's Own," by Chuck Wendig, interviews with Randy Henderson and Silvia Morena-Garcia, and Chen Qiufan, and an editorial, "Reader's Poll Winners, Nebulas, and Forever," by Neil Clarke. This issue's podcast is "Slowly Builds An Empire," by Naim Kabir, read by Kate Baker.
Clarkesworld is a three-time winner of the Hugo Award for Best Semiprozine. In 2013 Clarkesworld received more Hugo nominations for short fiction than all the leading print magazines (Asimov's, Analog, and The Magazine of Fantasy & Science Fiction) combined, and last November the magazine was awarded a World Fantasy Award.
We last covered Clarkesworld with Issue 101. Clarkesworld 102 was edited by Neil Clarke and Sean Wallace, and published by Wyrm Publishing. The contents are available for free online; individual issues can be purchased for $3.99, and monthly subscriptions are $2.99/month. A 6-month sub is $17.94, and the annual price is $35.88. Learn more and order individual issues at the magazine's website.
This issue's cover, "Keter," is by Peter Mohrbacher. See the complete issue here.
See all of our recent magazine coverage here.