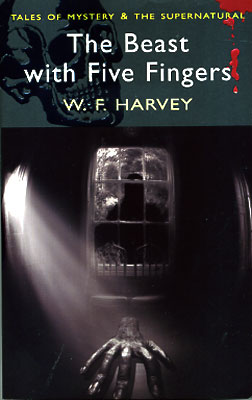 Two weeks ago, I mentioned The Power of Darkness: Tales of Terror, by Edith Nesbit, a volume in the Wordsworth Tales of Mystery And The Supernatural (or, as we prefer to call it, TOMAToS).
I first discovered Wordsworth's excellent Tales of Mystery And The Supernatural line, believe it or not, wandering the floor at the Windy City Pulp and Paperback show in Chicago with fellow pulp aficionados Howard Andrew Jones and John C. Hocking. We'd just passed a dealer selling omnibus collections of Ki-Gor reprints — which heartily tempted Howard, let me tell you — when Hocking became distracted by a thick volume on display amidst a vast sea of books: The Beast With Five Fingers, by W.F. Harvey.
I'd never heard of Harvey, although he's fairly well-known in pulp circles for the short story that became The Beast With Five Fingers, a 1946 creeping-hand horror flick starring Peter Lorre. Hocking's excitement had nothing to do with the cover story however, and everything to do with "The Clock," which he described as one of the finest horror stories ever written. That was enough for me, and I took home a copy.
Hocking is not alone in his admiration. In Gahan Wilson's anthology Favorite Tales of Horror, which includes "The Clock," Wilson famously wrote:
I think that for sheer menace this is the most powerful story I have ever read, though exactly what it is that is menacing, and exactly what it is menacing to do are entirely mysterious.
I'm happy to say that the story lives up to its reputation. It's a tiny marvel, splendidly written, about a mysterious and macabre encounter in an abandoned home. Or is it? Like much of the best gothic fiction, exactly what happened is open to interpretation.
But there's more to The Beast with Five Fingers than just "The Clock" — much more — and I'm happy to say I've been enjoying the entire book. (If you're not the patient sort, however, the complete text of "The Clock" is available online.)
The Beast with Five Fingers was published by Wordsworth Editions in May, 2009. It is 432 pages in paperback, priced at a criminally low $6.99. There is no digital edition.
You can see all of our recent Vintage Treasures here.