New Treasures: Crown of Vengeance by Mercedes Lackey and James Mallory
New Treasures: Crown of Vengeance by Mercedes Lackey and James Mallory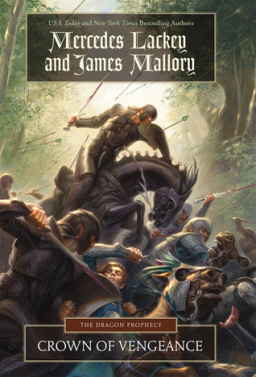 Here's an uncomfortable admission: I've never read anything by Mercedes Lackey. I know that seems improbable, just statistically speaking — she's written, by my count, somewhere around 100 fantasy novels. If you're a fantasy fan, you're bound to read one sooner or later.
I have no excuse. If it helps, I'm a Canadian, and the traditions and culture of your America are strange to me. But I'm coming up to speed.
There's no better way to try a new author than when she launches a new series, and that's exactly what Lackey has done this month with Crown of Vengeance, the first novel in The Dragon Prophecy, co-authored with James Mallory.
Mallory isn't as well known as Mercedes Lackey, but he's no slouch. He's the author of the Merlin trilogy, based on the Sam Neill mini-series, and in collaboration with Lackey he's written both the Eternal Flame trilogy — including the New York Times bestseller, The Phoenix Transformed — and the Obsidian trilogy. If you like trilogies, Mallory's your guy.
Although the flap copy is a little coy about it, anybody who pays attention to Amazon reviews will learn that Crown is a prequel to both the Eternal Flame and Obsidian trilogies. Okay by me, I'm still trying to come up to speed here. Besides, the marketing copy included with the book tells me "No previous knowledge of Lackey and Mallory's collaborations is necessary to enjoy this fast-paced, action packed novel."
Between the Mercedes Lackey connection, marketing copy that includes the words "action packed," and the late-stage melee on the cover, I'm pretty much sold. And I don't even know what the book is about yet. I read the front jacket, and it said something about elves, demons, legends, astonishing magics, forces of Light, and the Endarkened. Got it. Bring on the archers and the leaping horses.
Crown of Vengeance was published by Tor Books on November 13. It is 605 pages in hardcover priced at $27.99, or $13.49 for the digital edition.