Peadar Ó Guilín's The Deserter on sale Today
Peadar Ó Guilín's The Deserter on sale Today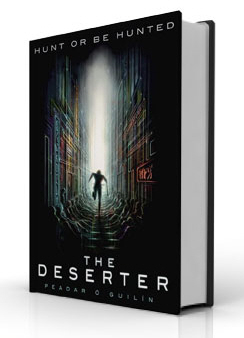 If you're a long-time Black Gate reader you know the name Peadar Ó Guilín.
His first story for us was "The Mourning Trees" (Black Gate 5), followed by "Where Beauty Lies in Wait" (BG 11) and "The Evil Eater" (BG 13), which Shedrick Pittman-Hassett of Serial Distractions called "a lovely little bit of Lovecraftian horror that still haunts me to this day."
Peadar's first novel The Inferior was published to terrific reviews in 2008. School Library Journal called it
[An] epic story of survival, betrayal, and community… intriguing at every turn, The Inferior will hold readers from page to page, chapter to chapter, to the very end.
After nearly four years the sequel has finally arrived, and it promises to be everything we've waited for. Here's the book description:
The humans are weak and vulnerable. Soon the beasts that share their stone-age world will kill and eat them. To save his tribe, Stopmouth must make his way to the Roof, the mysterious hi-tech world above the surface. But the Roof has its own problems. The nano technology that controls everything from the environment to the human body is collapsing. A virus has already destroyed the Upstairs, sending millions of refugees to seek shelter below. And now a rebellion against the Commission, organized by the fanatical Religious, is about to break.

Hunted by the Commission's Elite Agents through the overcrowded, decaying city of the future, Stopmouth must succeed in a hunt of his own: to find the secret power hidden in the Roof's computerized brain, and return to his people before it is too late.
The Deserter is on available today in hardcover, and in digital format for the Kindle and Nook. It is 448 pages, and published by David Fickling Books.
To promote it, Peadar has released Where Beauty Lies In Wait, a free e-book collecting a dozen of his short stories, including all three from Black Gate. It's available in Kindle, ePub and PDF versions, and you can get it here.