Art of the Genre: Jean Giraud 'Moebius' 1938-2012
Art of the Genre: Jean Giraud 'Moebius' 1938-2012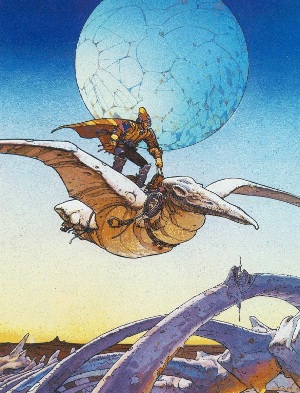 This week I take on the sad task of doing the obituary piece for the passing of another great industry artist. I don't think these things hit me quite as much when I simply read about the death of an artist until I started doing Art of the Genre, but now that I take the time to look back and speak about a career, it's somehow even more of a loss.
To me, Jean Giraud was simply a man with a strange alias, Moebius. I didn't know him well, or his work for that matter. He was a Frenchman, a comic guy, and the two didn't run into my creative circle of artistic knowledge as well I they probably should have.
Still, Moebius was ever my enigma, and when I did my list of the Top 10 Fantasy Artists of the Past 100 Years back in 2011, Moebius might not have made the final list but he did receive a healthy number of votes from all the industry insiders I polled. This fact wasn't lost on me, but as time is ever crunched and fleeting I went about with other work and never got back to studying why it was that Moebius had placed so highly on knowledgeable people's lists.
Today, as I write this, I've finally come to realize why. I may not have known Moebius in his personal art, but that isn't to say I don't know him in so much of the art I love. You see, Moebius, for all the wonderful things he did with his own hand, was perhaps better known for those he influenced with that work.

Like Frank Frazetta, Moebius has a school of followers, and to me those are the folk that I cherish more than most. Had there been no Moebius, then much of my artistic world would be far less colorful.
Perhaps Moebius's greatest known disciple is another non-American, Hayao Myazaki, who in 1984 created the animated classic Nausicaa and the Valley of the Wind. This movie is a testament to Moebius's genius, and every bit of its style, a style that has helped define Myazaki's Studio Ghibli, was a page taken from this French comic master.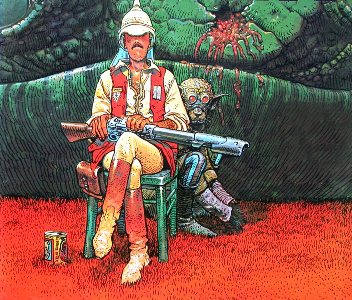 Moebius's influence can also be felt in standard American cinema as director Ridley Scott was heavily influenced by Moebius's space images when he directed Alien in 1979, and again took a page from Moebius when he created his classic cyberpunk noir Bladerunner in 1982. Bladerunner steals much of its collective anima from Moebius's unmatched 1975 comic strip The Long Tomorrow.
The Long Tomorrow is an incredible piece of comic lore that helped create some of the best science fiction to come out of the 70s and 80s, including an Imperial Probe Droid pictured in the strip's very first panel.
His view of a darker, dirtier future continued on in his development of the 1997 movie The Fifth Element, which might not have been a box office powerhouse but I dare you to watch it today and not be blown away by the visual aspects of the film.
However, if this didn't make me understand how important Moebius was to the genre, I needed to look no further than artists who mean the world to me. Two of my absolute favorites, Sam Keith and Jeff Laubenstein, are perfect examples of Moebius's talent driving the pen and ink of other artists in the industry.
So I feel this loss all the more, and yet I have to take it as all the rest and thank Jean Giraud for all he did for the industry and the art I love so dearly. He will be missed, but as long as there are those who mirror his work, he will never be forgotten.