Keep up with the Black Gate Staff with the BG Staff tag
Keep up with the Black Gate Staff with the BG Staff tag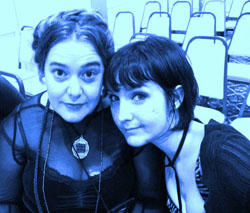 How is it that we have so much fun here at Black Gate? How are we so well connected to the very heartbeat of modern fantasy? How is it that so many incredible and exciting people stop by every month, to guide you towards the literature, art and music that will change your life?
Don't look at me. I have no idea either.  I just pay the bills, and shut down the parties when the police show up.
But you don't need me to tell you. The talented and rambunctious staff of Black Gate magazine bare all their secrets right here each week. And to help you keep up, I've finally added a BG Staff tag to the Categories section of our navigation menu at left.
What's a BG Staff tag? You're not paying attention, are you? You just drop by once a week hoping Scott Taylor will post more pics of near-naked redheads. All right, look. See that narrow column on the left, with the Search box at the top? About halfway down the page is a CATEGORIES section. That's how we sort the thousands of blogs posts we've done here at Black Gate. Now you can just click "Art of the Genre" and ogle all the art you want, without all those pesky posts about books and stuff. You're welcome.
And right below that link is the new BG Staff tag. It collects about 250 articles from the last few years covering news, interviews, and embarrassing personal revelations from the people behind Black Gate, including the many authors, artists and editors who've contributed to our pages over the years. It's your one-stop-shop to discover the latest books from Devon Monk, John R. Fultz, Martha Wells, James Enge, Jonathan L. Howard, Harry Connolly, Peadar Ó Guilín, C.S.E. Cooney, Shawn L. Johnson, Rich Horton, Howard Andrew Jones, and many others.
You'll find all the news about Ryan Harvey's Writers of the Future Award; Harry Connolly on making his first book trailer with a hot model; how Howard Andrew Jones introduced C.S.E. Cooney to C.L. Moore; Bud Webster's advice on book selling; which Black Gate author reached #1 on Amazon sales list; which BG staffer interviewed his own daughter, and a road trip to clone a woolly mammoth.
All that plus numerous convention reports, book excerpts, reviews, award news, self-publishing advice, agent hunts, first novel sales, online comics, zeppelins, and sadly even a few obituaries. It's the entire circle of life here at Black Gate. Enjoy.