John C. Hocking's "The Face in the Sea" nominated for Harper's Pen Award
John C. Hocking's "The Face in the Sea" nominated for Harper's Pen Award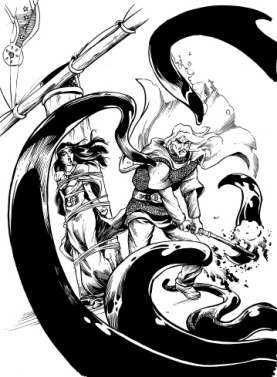 The Sorcerer's Guild announced this week that John C. Hocking's "The Face in the Sea" (from Black Gate 13) has been nominated for the Harper's Pen Award (formerly the Ham-Sized Fist Award).
The Harper's Pen Award honors the best Heroic Fantasy or Sword and Sorcery short fiction. The award is sponsored by The Sorcerer's Guild. The stated goal of the award is "to encourage authors to continue to explore heroic fantasy and sword and sorcery fiction, as well as to reward those who continue to publish it."
The Finalists for 2009 are:
Special shout out to Black Gate Contributing Editor Bill Ward, for his nomination for "The Last of His Kind."
There's some fine publications on that list.  If you like heroic fantasy, I hope you'll take the opportunity to try a few of the links above and, if you like what you see, support one of our sister magazines. Me, I'm going off to read some more Heroic Fantasy Quarterly.
Congratulations to all the finalists!  The winner will be announced next week.