Fantasy Metaphysics with Pathfinder Tales: The Redemption Engine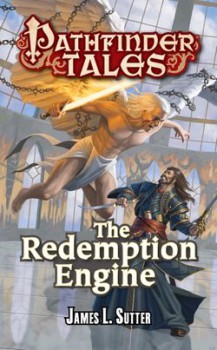 Fantasy worlds usually contain good and evil … and frequently personifications of good and evil. Angels & demons. Saints & devils. Knights & undead. Good gods and evil ones. Sometimes these distinctions are very clear-cut and that's okay. There's something to be said for a world where the heroes are clearly heroic and villains are clearly evil. But the real world isn't generally like that and, even within our fantasy, it's often the case that things tend to be much more interesting when the lines are blurred a bit.
Which brings me to the most recent installment in Paizo publishing's Pathfinder Tales series of books: The Redemption Engine by James L. Sutter. This book places the metaphysical questions of good versus evil squarely in the center of the plotline, as the atheist priest Salim Ghadafar investigates a case of missing souls that had been destined for Hell. But as the case unfolds, drawing Salim across dimensions ruled by the forces of Good, Evil, and Neutrality, it becomes clear that some of the outsiders native to these realms are throwing the rulebook out the window, trying to gain souls to their armies through new, more innovative means.
As revealed in Ghadafar's previous novel appearance Death's Heretic (and the web fiction Faithful Servants), Salim serves as an investigator and enforcer for Pharasma, the goddess of birth, death, and prophecy, but he doesn't worship her. Coming from the atheist nation of Rahadoum, Salim spent years as a leader in the Pure Legion, persecuting the faithful, before he finally got an offer he couldn't pass up and swore himself to her service in exchange for the life of the woman he loved. Now he serves the goddess Pharasma … but he doesn't have to like her.