The Ballantine Adult Fantasy Series: Deryni Rising by Katherine Kurtz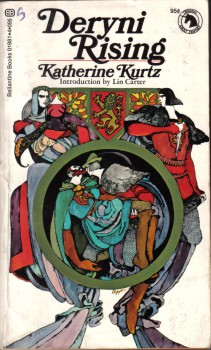 Deryni Rising
Katherine Kurtz
August 1970
271 p., $0.95
Cover art by Bob Pepper
When Lin Carter started the Ballantine Adult Fantasy line, he began by reprinting works that were obscure and/or considered classic in the field at that time, but as he wrote in the introduction to Deryni Rising, he had hoped from the very beginning to be able to publish high quality new works as well. The first original fiction he published was Deryni Rising, the first novel by Katherine Kurtz.
I think he hit the ball out of the park when he selected this one.
The story takes place in a pseudo-Welsh land called Gwynedd,. The book opens with the murder of King Brion Haldane by the sorceress Charissa. Brion and his closest friend Alaric Morgan defeated and killed her father some years ago. Brion's murder is part of her plan for revenge.
Brion has, or rather had, the ability to practice Deryni magic. The Deryni are a long-lived race with inherent magical abilities. A few generations ago, humans and Deryni lived together in peace until a group of Deryni rose to power and severely oppressed the humans in Gwynedd. They were overthrown by a Deryni priest named Camber, who discovered a way to impart the Deryni's magical powers to ordinary humans. At first, Camber was considered a saint, but later the Church declared him a heretic. Now some humans tolerate the Deryni, while others seek to exterminate them. Most Deryni keep a low profile. Morgan is part Deryni and doesn't hide that fact.