Gen Con 2013 Post-Convention Recap – Part 2: D&D Party Time!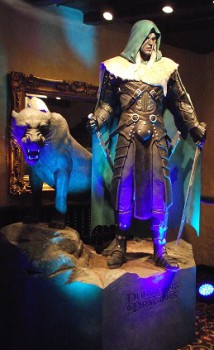 After a pretty full first day at Gen Con 2013, things were really just getting started for me.
At about 5:00 pm, I headed a couple of blocks over to the Indiana Repertory Theater for a Dungeons & Dragons press conference I'd been invited to. Following the press conference was to be the big Dungeons & Dragons party, which was celebrating not only the launch of The Sundering … but also the 25th anniversary of Drizzt Do'urden. (We even had cake!)
So, let's lay it out here: Dungeons & Dragons is going through some massive shake-ups. Last year, I liveblogged from their keynote address, where the Powers-That-Be formally announced their intention to tie the D&D Next transformation of the rules in with a Forgotten Realms storyline called The Sundering.
This year, we got a lot more information about exactly what this will look like on the implementation. Plus … there was an open bar and a murder! But first, the gaming news.