Black Gate Online Fiction: The Death of the Necromancer, Part Five
Black Gate Online Fiction: The Death of the Necromancer, Part Five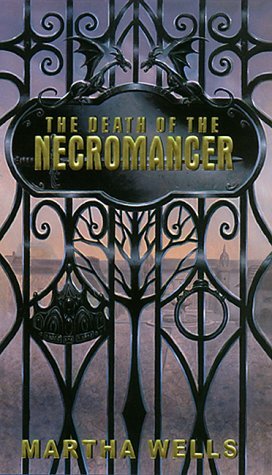 Black Gate is very proud to present the final installment of Martha Wells's Nebula Award-nominated novel, The Death of the Necromancer, presented complete online for the first time. In his SF Site review Wayne MacLaurin wrote:
The setting is a gaslit European continent that has familiar sounding names (Vienne, Lodun) and comes complete with steam engines and revolvers. But magic works and sorcerers walk the streets of the cities, have a great university and hold positions of power at the courts… The plot revolves around Nicholas Valiarde, a disgraced nobleman, consumed with the desire to revenge the wrongful death of his godfather. He also happens to be the greatest thief in all of Ile-Rien (a helpful talent which, I am sure you can see, would significantly help with those late night prowls around your arch-enemy's estate)…

Valiarde's revenge starts getting interrupted by a series of increasingly bizarre, unexplainable events. Somebody, or something, with significant magical ability begins to oppose him. More chilling is the obvious taint of necromancy — and necromancy is an art that has been outlawed for centuries…

The Death of the Necromancer is a fabulous read and earns my vote for "Most Exciting New Book of the Summer!"
Martha Wells is the author of fourteen fantasy novels, including City of Bones, The Element of Fire, The Cloud Roads, and The Serpent Sea. Her most recent novel is the YA fantasy, Emilie and the Hollow World, published by Strange Chemistry Books in April. Her previous fiction for us includes "Reflections" in Black Gate 10, "Holy Places" (BG 11), and "Houses of the Dead" (BG 12). Her most recent article for us was "How Well Does The Cloud Roads Fit as Sword and Sorcery?," which appeared here March 13. Her web site is www.marthawells.com.
The complete catalog of Black Gate Online Fiction, including stories by Mary Catelli, Michael Penkas, Vera Nazarian, Ryan Harvey, Nina Kiriki Hoffman, E.E. Knight, C.S.E. Cooney, Howard Andrew Jones, Harry Connolly, and many others, is here.
The Death of the Necromancer was originally published in hardcover by Avon EOS in 1998. The complete, unedited text is being presented here; it began on June 2 with the first four chapters here.
Part Five includes Chapters Nineteen through Twenty-Two. It is offered at no cost.
Read Part Five of the complete novel here.