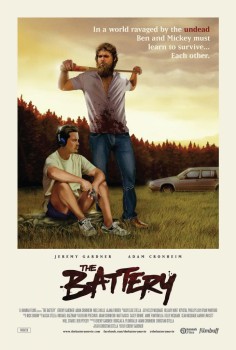 As Black Gate's resident oddball zombie movie reviewer (Honest! John O'Neill did it in style of Mad Men's Roger Sterling, he did a Jedi hand wave and anointed me thus) I have to say a little bit about the ultra-low budget 2012 movie The Battery.
The zombie movie has reached the arthouse at last. And the arthouse loved it, this micro-budget film won numerous awards.
Now don't get me wrong, I love a traditional zombie movie as much as the next fan. I have a soft spot in my heart for 2008's Day of the Dead, despite such howlers as the assertion that zombie Bud is safe because he was a vegetarian in life, as though that moral choice trumps thousands of years of cultural conditioning toward a similar moral choice against cannibalism.
But back to The Battery. Filmed on a budget of $6000, writer/director Jeremy Gardner put together a horror film that delivers the most entertainment per budget dollar since Blair Witch Project — though I expect The Battery, while not as original as that legendary effort, will prove more enjoyable on the re-watch.
Its strengths are the same as Romero's original Night of the Living Dead: a limited budget means you have to spend your time on character and tension. Without money for a lot of extras in zombie makeup to be featured more than briefly, you have to make do with the sounds of zombies outside the windows, which is creepier anyway.
---