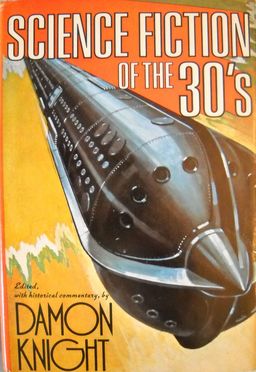 Windy City Pulp and Paper is a fabulous convention and, as its name implies, it's focused mostly on vintage magazines and paperbacks. Wandering the vast Dealer's Room is like stepping into a Cave of Wonders for fans of pulp science fiction and fantasy.
But it's also a den of surprises and a pleasant one awaited me while browsing a table piled high with pulps and digest magazines. A hand-written sign proclaimed all items were "3 For $10," so I decided to spend a few minutes exploring the heaped stacks. Buried under a loose pile of Science Fiction Quarterly magazines and Amazing Stories, I found a lone hardcover volume: Damon Knight's pulp anthology Science Fiction of the 30's, in much better shape than my tattered copy.
Well, that was certainly worth $3.33. It didn't take much effort to find two other worthy treasures (a July 1948 Fantastic Novels pulp with a classic Lawrence cover and the January 1956 issue of The Original Science Fiction Stories with a James Blish cover story, which looked like it had just come off the magazine rack.) I plunked down my ten bucks and fled before the vendor changed his mind.
Science Fiction of the 30's was one of two great pulp anthologies I read over thirty years ago — the other being of course Isaac Asimov's marvelous Before the Golden Age. Those books, together with Jacques Sadoul's art book 2000 A.D. Illustrations From the Golden Age of Science Fiction Pulps, ignited a love of pulp fiction in me as a young teen that never died.
---